Video
In this video, we take a look at master lists, segmentation and how to send to a list segment.
Details
It is highly recommended that you use one master list for all your contacts instead of splitting them up. There are two main reasons for this.
It could save you money by keeping your total number of contacts low.
You can segment the list and easily target certain demographics with a send.
If, for example, you had 400 contacts in one list and then 200 were copied into a separate list to send messages to. Although you have 400 individual contacts in the original list, the duplicates are counted as individual separate contacts. This means your total contact volume would be 600 contacts, which would push your account into the next pricing tier.
Add more fields
Before you can effectively segment your contacts, you need fields for all the data you will want to search for. You can read more about adding fields to your lists here.
Sending to a Segmented List
Once your list is set up with sufficient fields and appropriate data, you are ready to send! Instead of sending to an entire list, you will want "Advanced Selection". This is where our added fields come into play.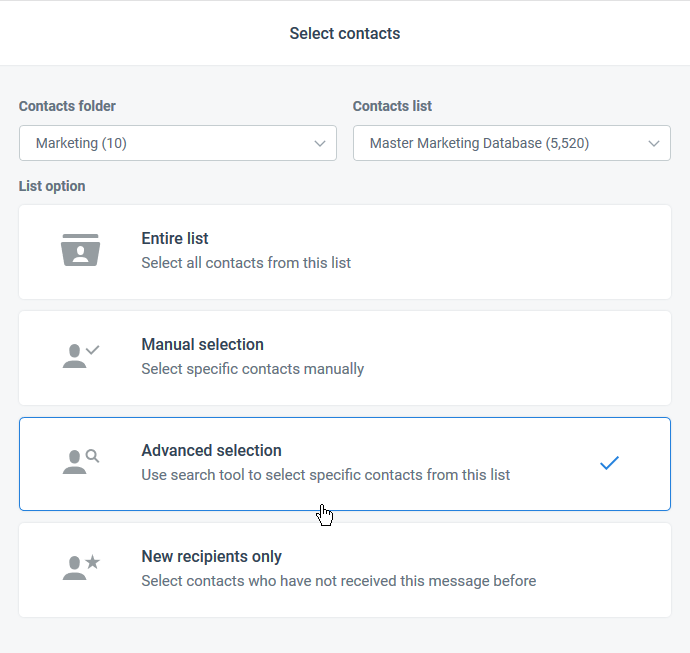 Proceeding to the next step, from here you can search through all the various fields that are used in the list. In the example below, we're wanting to send an email to customers that reside in Australia.
Don't forget to save your advanced searches that you will use commonly. The option for this is in the top left.
For more information regarding Advanced Search click here.
Managing Duplicates
It is a good idea to periodically check for duplicates in your list. Keeping duplicates to a minimum will mean that your number of contacts is more accurate (which means your list size isn't costing you more than it should).
Although duplicates will not be uploaded from a bulk upload they can still occur with customers filling in web forms, or being manually added to a list.
To view and manage duplicates, select a list from the List and Forms menu. Open the Action menu and select Duplicates. From here you can search for duplicates based on all the fields in your list.
For more detail on duplicates click here.