Video
This video covers a number of topics from the various how-to guides below, including configuring your list preferences, setting up your Preferences form (from 0m51s), and sending to contacts who have list preferences set (from 1m54s).
Details
Email preferences are a great way to allow your contacts to choose the types of emails they want to receive from you. For example: Newsletters, Events, Promotions.
It's also a great way to potentially retain a contact who is about to unsubscribe - by allowing them to alter their preferences instead of unsubscribing completely - and thus potentially receive less email from you.
In this guide, we'll explain how to configure the preferences that are available to your contacts, how to setup the preferences form, how to apply preferences to existing contacts and finally - how to send to contacts who have certain email preferences enabled.
How-to Guide
This article contains a number of guides for various related topics. Click below to jump ahead to a particular guide.
Configure Your List Preference Options
Log into your account and click the cog icon at the top right.
Select List Preferences from the sidebar.
By default, three preferences have been created for you already (Newsletters, Promotions, Events), but you can rename or remove these if you wish - as well as add new options to suit your needs. You can also re-order the preferences by clicking & dragging

the gripper to the

left of each one. Configure this area as required.

Once finished, click
.
Setup Your Preferences Form
Once you've configured your preferences as per the section above, now it's time to check setup or check your Preferences form. This is also covered in the video above, from 0m51s.
Select Lists and Forms from the sidebar.
Double-click on the relevant list, to go into forms view. All of the forms attached to your selected list are now shown.
Select the

Preferences

tab to open your preferences form for editing.
Ensure the

Update Preferences

sub-tab is selected, as shown.

With your update preferences form now open for editing, you can redesign the form as required - such as adding a logo, changing the colours, adding additional text and so on.
Design & Customise the Appearance of a Form
Once finished, click
.
If you have multiple lists, you'll need to repeat this process for each of your lists.
Set Some Preferences on Your Existing Contacts
If you've been using our system for a while but have only just started using List Preferences, you may wish to set preferences for your existing contacts.
Bulk Update Contacts With List Preferences
Send to Contacts With List Preferences
Once you have contacts with preferences set against their records, you can start sending your different types of emails contacts who wish to receive that type of communication. This is also covered in the video above, from 1m54s.
Before you start sending emails to your contacts using your new Preferences options, you may wish to edit your email footer to include a link to your 'Update Preferences' form link alongside the usual Unsubscribe link - that way, users can easily make changes to their email preferences at any time. You can set this by editing the message Footer Details.
When sending an email and selecting the recipients of your send, choose the Advanced Selection option.

Configure your search as follows, and click any of the preferences you'd like to include in this email send.

Click
. Now, when you send your email, it will be received by contacts who have any of those preferences set against their record.
Add the Preferences Option To Your Subscription Form
Now that you've setup everything, it might be a good idea to add a Preferences option to your subscription form - so users can set this right there and then at the time of sign-up / subscription.
Select Lists and Forms from the sidebar.
Double-click on the desired list, to open forms view for that list.
Navigate to your subscription form.
From the Components panel to the right hand side, click Add next to the Preferences option to add this to your form. You can optionally make it a required field, so that your contact must select at least one option. This may be a good idea, because if they don't select anything and you only ever send to users with preferences, then they'll never get any emails from you.

Link Your Preferences Form To Your Unsubscribe Form
If you're using the preferences function and are driving contacts to the update preference form when they click the unsubscribe link, it's always a good idea to link the update preferences form to the unsubscribe form.
That way, you'll remain spam compliant by giving your users a way to opt-out completely. We've provided an example below.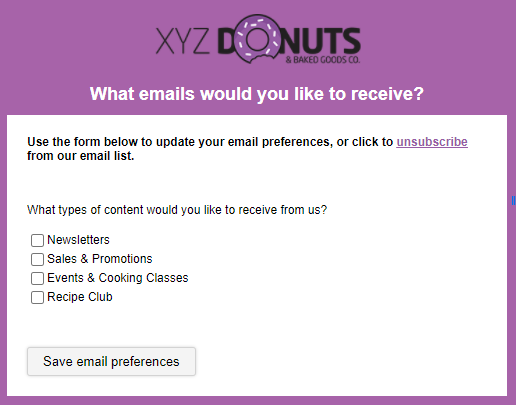 Select Lists and Forms from the sidebar.
Double-click on the desired list, to open forms view for that list.
Select your update profile form by clicking on

Update Profile

.
Edit the form and add some text to it, to describe its purpose and include some information about unsubscribing completely.
Highlight the text that you wish to link to the unsubscribe form and click the
(insert link) icon from the floating toolbar.
Select Web Forms from the left side, then select your relevant unsubscribe form.

Click
When done, save your form.