Video
In this video, we take a look at master lists, contact grouping ('segmentation') and how to send to a group of contacts ('segment') within your master list. We've also provided additional accompanying information below the video.
Details
A master list is just a normal list - it doesn't operate any differently to any other list in the system and you can actually call it anything you like!
We recommend using one master list for all your contacts - instead of multiple lists for different sends, or different types of contacts. There are two main reasons for this.
It could save you money by keeping your total number of contacts low.
You can segment the list and easily target certain demographics with a send.
Let's say that you had 400 contacts in one list and then 200 were copied into a separate list to send messages to. Although you have 400 individual contacts in the original list, the duplicates are counted as individual separate contacts. This means your total contact volume would be classed as 600 contacts, which would push your account into the next pricing tier.
Just because you're using a master list, doesn't mean it has to be the only list in your account. Although it's a good idea to combine customer lists into a single list, you can still definitely keep internal (staff) & external (customer) lists separate if you wish.
Every business is different, so we have provided some sample scenarios in the section titled "Common List Scenarios & Solutions", at the end of this article.
Use Fields to Segment Contacts
Let's say you currently have three lists - Customers, Recipe Club and Decoration Masterclass. They're all pretty different from one another, but you might have a few contacts that live across all three lists.
Before you merge your lists into one master list, have a think about how you mind 'find' those who are interested in Recipe Club emails, or those who attended a Decoration Masterclass, for example.
The easiest way to do so is to add a new field to your master list and use it for segmentation. This field, in our case, might be called 'Interested In' or 'Member Of' and then inside this field, your contacts are marked accordingly; Recipe Club, Customers, or Decoration Masterclass - or any combination - depending on what list the customer was originally from.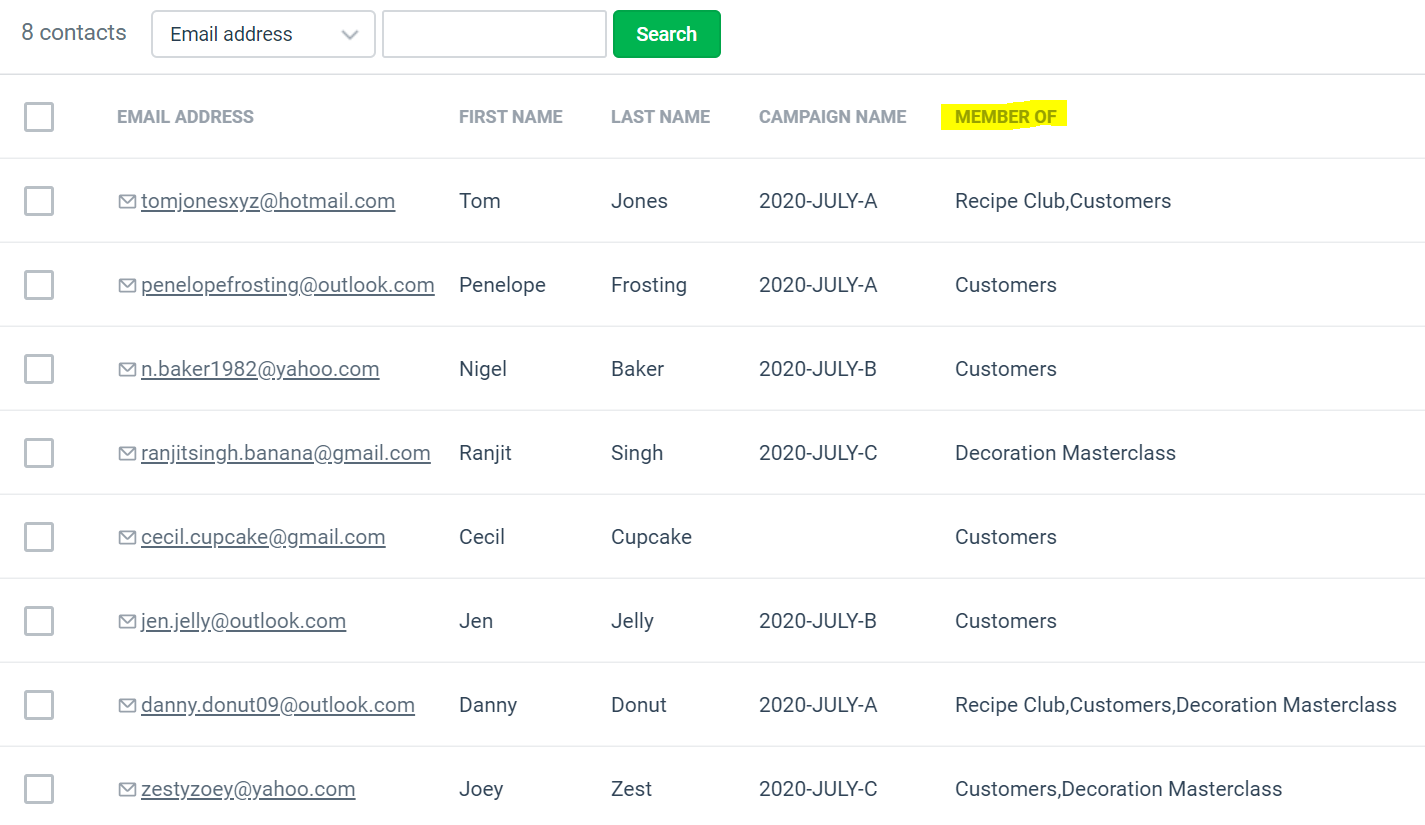 That way, when you go to do a Recipe Club email send, you can still easily find the right people to send it to, by searching your segmentation field (more on this in the next section, below).
Add additional fields to your list with our List Fields article
Sending to the Right Group of Contacts
Once your master list is set up with the fields you need for segmentation (as per above), you'll be ready to send.
Instead of sending to an entire list like you normally might, you will want to choose the Advanced Selection option on the send screen. This is where our newly added segmentation field (or fields) come into play.
You can then run a search (or select a pre-saved search) to locate the contacts you'd like to send to. In the example below, we're searching for all contacts on our master list that are a member of the Recipe Club...

How to Send to Segmented Contacts, including how to save your segment searches
How to Move to a Single Master List
We have a dedicated article which provides how-to instructions on combining lists.
How to Merge Multiple Lists
Common List Scenarios & Solutions
In this section we've provided a number of common scenarios for multiple lists, with some information and potential solutions once you've moved across to a master list arrangement.
Scenario 1: A Different List per Send (Or per Campaign)
Some companies manage their customer data in another system, and merely import a list into our platform each time they do a send. How does this work when using a master list?
In this scenario, we would recommend creating a field on your master list called Campaign Name (or similar). Then when you do an upload of contacts into your master list for the next campaign send, your import file (or spreadsheet) would have a value in this field - making it easy to identify which contacts should receive the email you're about to send.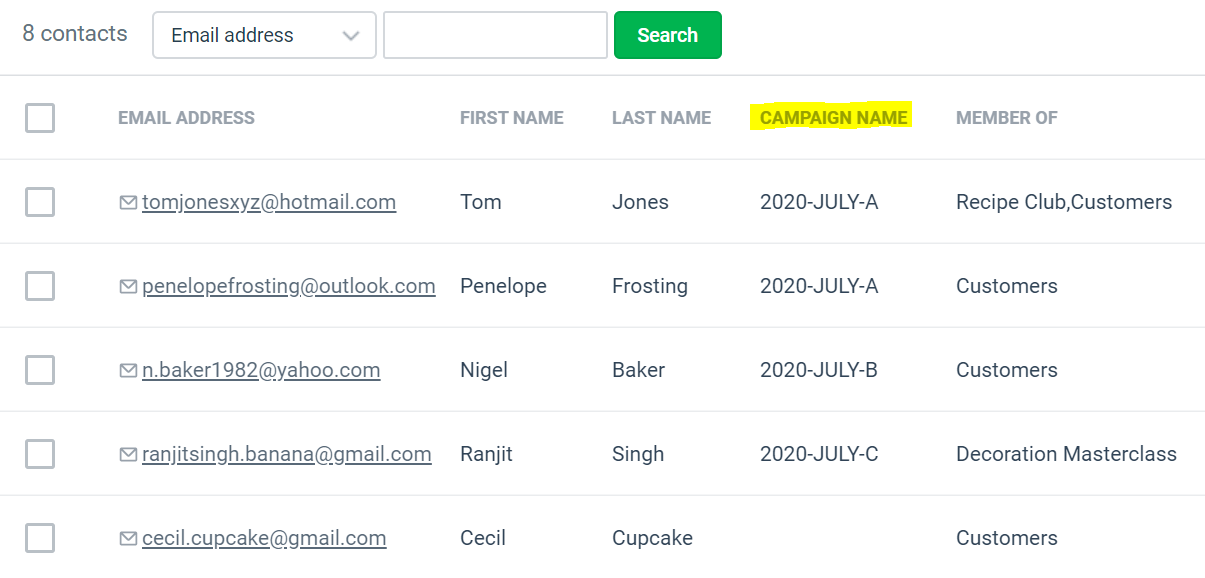 If some of the contacts you're importing already exist in the master list, our system will automatically update their existing records with the new Campaign Name value from your import file. Anyone new, will be added.
Then, when you go to do your email send, you'd just run an Advanced Search to find all contacts who have a particular value in their Campaign Name field and then do your send to those.
How to Send to Segmented Contacts
Scenario 2: Maintain a Frequently-Changing Distribution List (Eg. a List of Staff)
In some instances, you may have a list that updates fairly regularly - such as a list of staff at a large organisation where people come and go from time to time.
In this scenario, you would re-import your contacts into your existing master list as normal, but then run an Advanced Search on the field called Date Last Modified. This will allow you to search for contacts who's date last modified was before when you did your import.
You can then delete the resulting contacts, because they were not updated (and hence, were not in the list you just uploaded).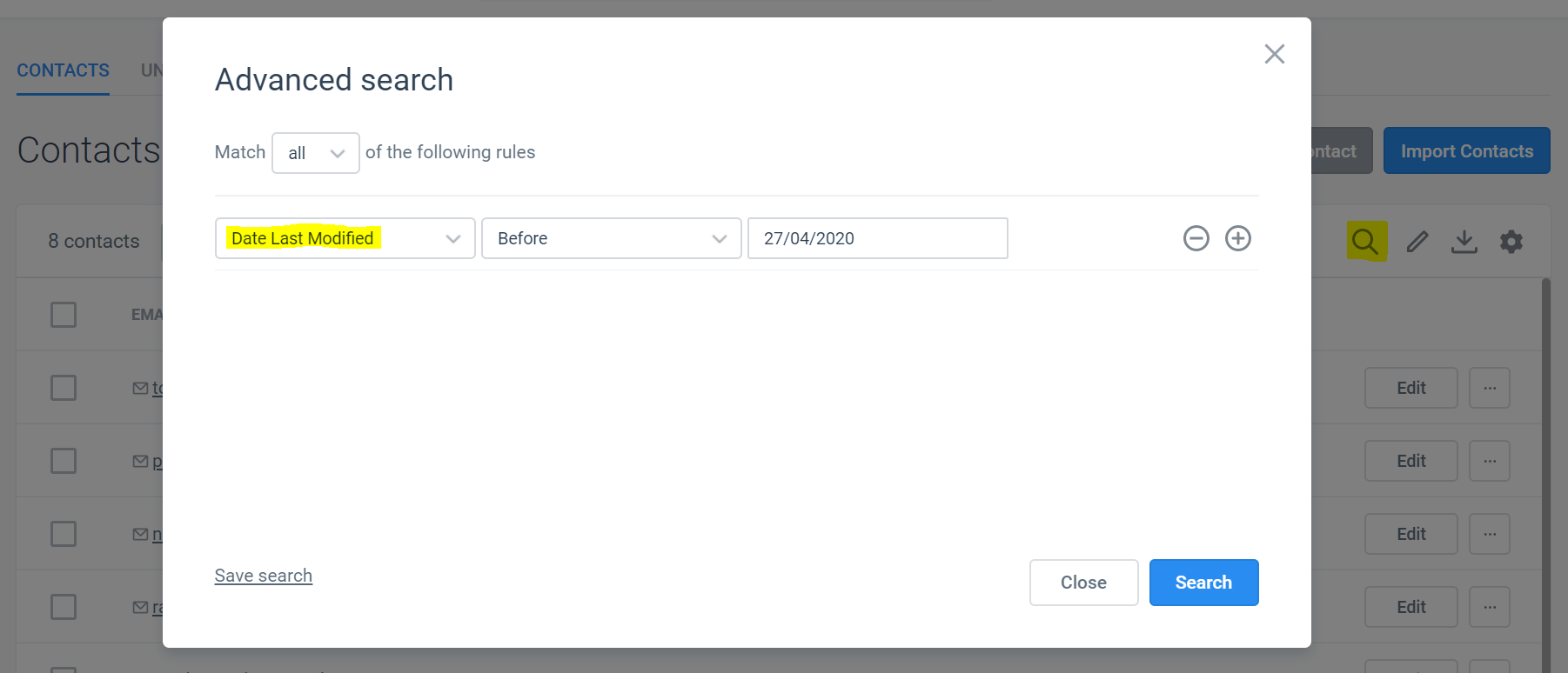 How to Update an Existing Contacts List or run an advanced search
Scenario 3: Internal (Staff) & External (Customer) Lists
It's still fine to keep some lists separate - especially since your internal comms may be confidential and you don't accidentally want customers receiving it.
Remember, just because you're using a master list, doesn't mean it has to be the only list in your account. Although it's a good idea to combine customer lists into a single list, you can still definitely keep internal (staff) & external (customer) lists separate if you wish.
In this scenario, you would have two lists in your account; one for staff, and another for customers.
Further Reading
For more tips & tricks on database maintenance & list cleaning, see List & Database Maintenance Tips.