Details
Our Events module allows you to easily create, manage and market your events. You can manage all of your events from one central place.
We support two types of events; those created in our platform, as well as those synchronised into our platform via our Eventbrite integration. You can actually use both event types at the same time!
In this article, we'll explain how the event registration process works and how you can locate registered attendees under both event types.
How-to Guide
Locate Contacts That Have Registered To Attend an Eventbrite Event
Whenever someone registers for an Eventbrite event, their details will be automatically sync'd across into whichever list you had connected to your Eventbrite event as part of that event's setup.
This sync between the two systems usually occurs every 30 minutes or so.
If you can't remember which list this is, here's how to find it...
Select

Integrations

from the sidebar.
Locate the Eventbrite panel and click

.
Your connected Eventbrite events will now be shown.
Scroll down to locate your desired event and click the View Contacts. You will now be taken to the relevant list that contains contacts that have registered for this event.
, then select
Eventbrite also passes us a 'Status' field, which is another field you can use as a further level of redundancy. For example, if a contact cancels their attendance / ticket using a link sent to them by Eventbrite, then they will still remain on your list - but with a different value in this 'Status' field.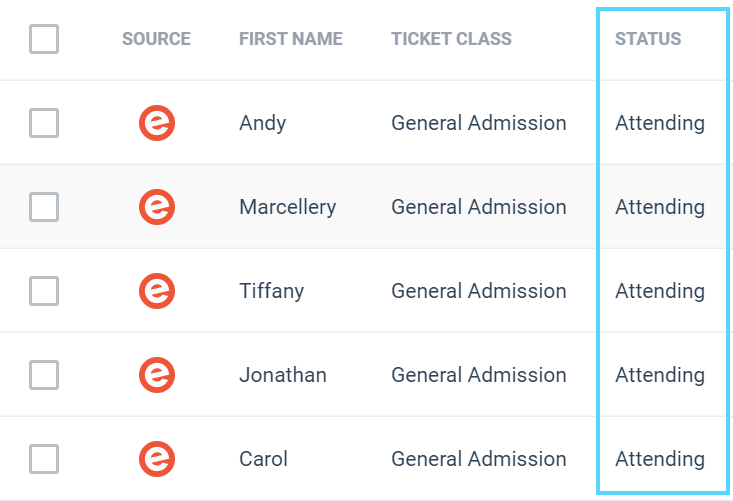 You can connect multiple Eventbrite events to the same list. Furthermore, you can connect an event series (multi-day or recurring events) to the same list. As such, there is an 'Event Name', 'Event Link' as well as 'Event Start Date' and 'Event End Date' fields to help you filter or segment contacts.
Locate Contacts That Have Registered To Attend an Event Created in Our Platform
Whenever you create a new list for your event (it's an option on the event creation dialog), we will automatically create a registration form for you. You can find this form in the usual place - by selecting Lists & Forms, then double-clicking on the list in question to view the forms attached to that list.
By default, this registration form has an 'Attending' field on it (as shown below). When a user registers for your event by filling in this form, their response to this field selection is recorded.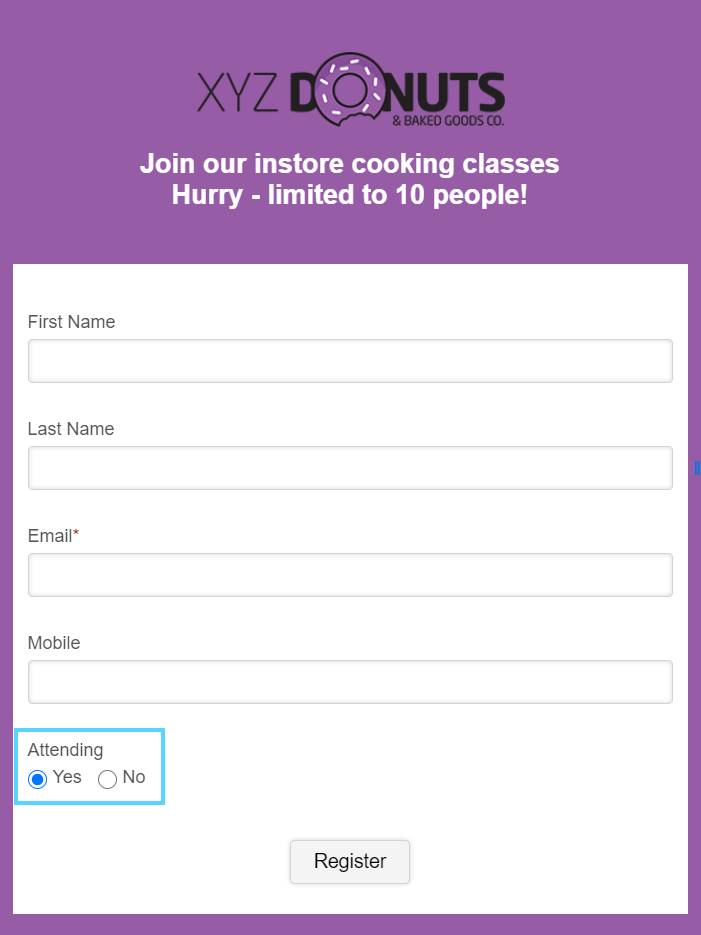 Next Steps
Now that you know what to look for when locating contacts that have registered for an event, why not learn how to search for these contacts (and save them as a segment) - or learn how to send to a specific set of contacts (or segment).