Details
If you are starting fresh & only creating one list from one import spreadsheet, then you can set a user's preferences at the time of import. However, if you are importing multiple lists or updating a list, then you will need to follow the directions provided in this guide.
There may come a time when you're looking to combine multiple lists into one master list, but you want to utilise our Preferences feature and set preferences for each contact as they come into the system.
For the purposes of our example, let's say you have three spreadsheets of contacts to import into one main list. These spreadsheets are called 'Newsletters', 'Sales & Promotions' and 'Recipe Club'. Some contacts are in all three spreadsheets, while others might just be in one or two of the lists you're importing.
Let's say that you also have these setup as Preferences in our platform (as shown below) - and you want to ensure everyone from the 'Newsletters' list is assigned this preference, everyone from the 'Sales & Promotions' list is assigned that preferences - and so on; remembering that some contacts might have one, some, or all, of your preferences.
Read on to learn how to set this up.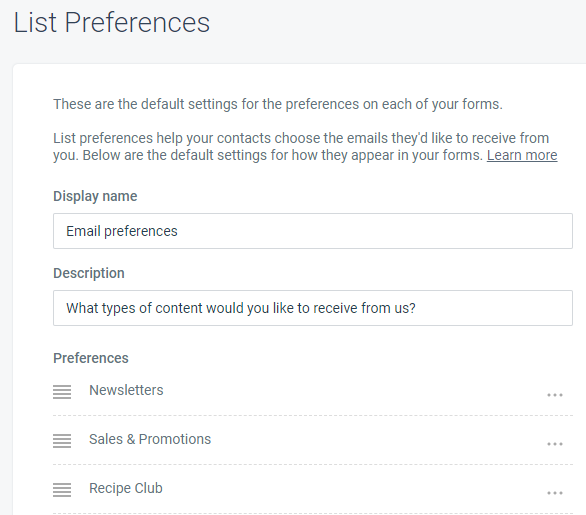 How-to Guide
Open each of the spreadsheets you wish to import, in a spreadsheet application such as Google Sheets, or Microsoft Excel.
Add a new column to the end of each of your spreadsheets. The column heading should be named with the preference and should be unique - as we don't want data from one spreadsheet import to go into the wrong column.
For each contact in that spreadsheet the data under this new column heading should read TRUE, or YES. In other words, some means of identifying if the contact has that preference. Our example spreadsheets with this configured, are shown below:

Save the spreadsheets.
Import each spreadsheet into our platform, one by one. Ensure that during the import (where our platform asks you to map the columns), you import the new columns you created in Step 2, above. In the case of our example, the list now looks like this:

Once you've finished the import, follow our guide to search for contacts who have a YES or TRUE value in each of your preference fields, and apply the relevant preference accordingly.
After doing so, you can (optionally) delete these extra identifying fields - as your contacts will now have their preference set anyway.