Update contacts in bulk with list preference fields for easy segmenting.
If you need to apply your preference fields to all your contacts in a list you can do so using this feature. This lets you easily segment your contacts so they can receive email based on content type.
To use this feature click contacts on the left side and select the list you want to work with, using the drop down folders.
Select the contacts using the check boxes on the left side, then click the actions menu below.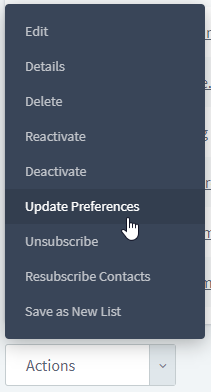 Click 'Update Preferences' and you will prompted to choose which preferences you want to apply to that selection.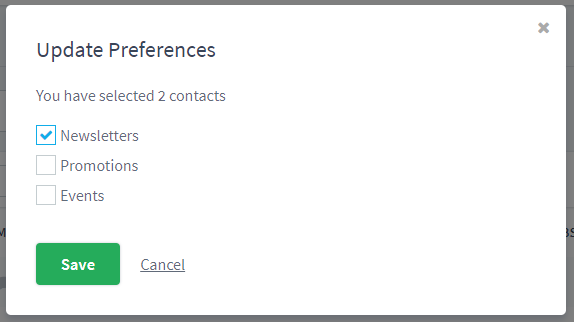 Click save and the preference fields will be applied to that selection of contacts. You can now target these contacts in your sends.

When going through this process, you may encounter a dash in some of the check boxes. This indicates that in the selection of contacts you currently have, there are some that already have this option ticked.
If you want to go ahead and apply the dashed preference to the selection, you will need to click the box to turn it into a tick.
Already ticked checked boxes indicate the contact selection all currently have this preference applied against them.