You are able to add rounded corners to almost every component in the message editor, this guide will outline using rounded corners, any limitations and the email clients that support them.
Using Rounded Corners
To add rounded corners you will first need to add, or edit an existing component. Depending on the component this option may appear in one or two areas. The Text/Paragraph component allow you to add rounded corners to the Title and Content sections. You can add separate values to each corner, or use the lock to set all corners as one value.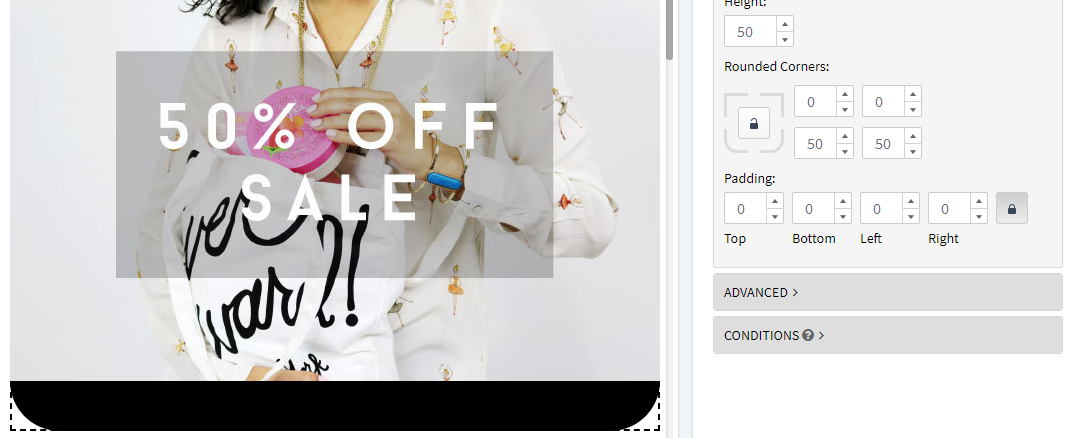 Please note:
Not all email clients support rounded corners, the following is a comprehensive list of supported clients:
Supported Clients

Desktop Clients
AOL Desktop
Apple Mail 10
Outlook 2000-2003
Outlook 2007-2016
Outlook Express
Outlook for Mac
Postbox
Thunderbird
Windows 10 Mail
Windows Live Mail

Mobile Clients
Android 4.2.2 Mail
Android 4.4.4 Mail
AOL Alto Android app
Blackberry
Gmail Android App
Gmail Android app IMAP
Gmail iOS app
Gmail mobile webmail
Google Inbox iOS app
iOS 10 Mail
Outlook Android app
Outlook iOS app
Sparrow
Windows Phone 8 Mail
Yahoo! Mail Android App
Yahoo! Mail iOS app

Webmail
AOL Mail
G Suite
Gmail
Outlook.com
Yahoo! Mail