As different email clients may display code differently, we recommend you test your email prior to sending to your contact list.
There are two ways to do this:
Send yourself a quick email test (allows you to test in your email program)
Run an email test across different email clients (recommended - see instructions below)
To run an email test:
Click messages on the left side
Select the Message you wish to test by clicking the circle to the left of it
Under 'Actions menu' below, select 'New Email Test'




Select the email clients you would like to test your email in and switch on the spam test option (if desired) for spam test as well.  There are other email clients available if you click the 'add other clients' link too.
Click the 'Start Test'  (note: you will need email test credits to run this test if you are on the starter plan) - Each test costs one credit.


Purchasing Email Test Credits
Each email test credit costs $5 and can be purchased when choosing to complete an email test or by clicking 'Account' in the top right corner, then 'Buy email test credits' in the horizontal nav bar.
From here, just select the total number of credits you require, then process the payment via credit card.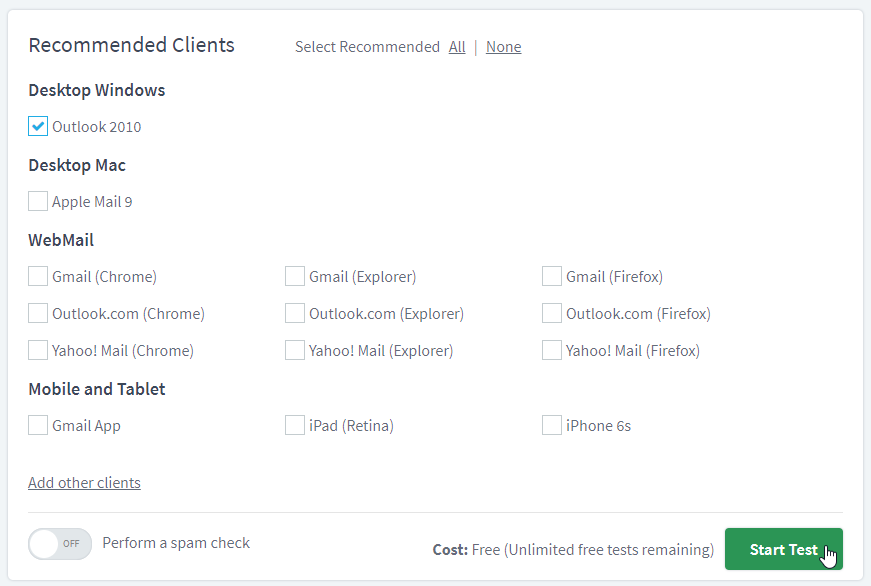 If you have any conditional content or wildcards in the email you're testing, you will need to select a single contact from a list to use for populating either of these.  If there isn't any conditional content or wildcards in your email, you don't need to choose a contact.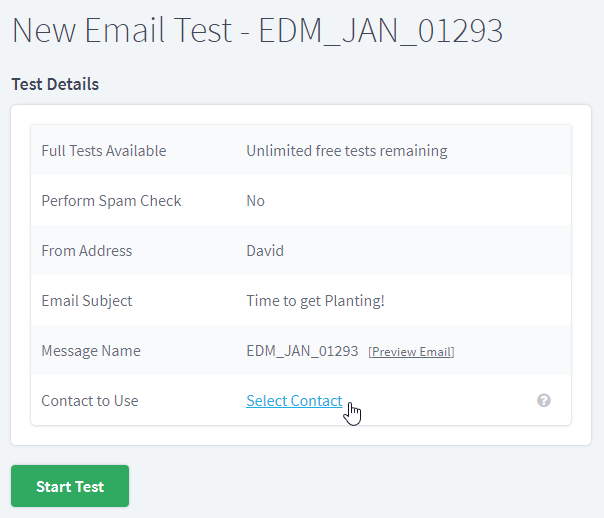 When you're ready, click the green 'start test' button.
Viewing your email test results
You can view the results of your test(s) by : 
Click messages on the left side

Click email tests in the horizontal nav bar

Click on the results box(s) that are shown here