Details
Our system can be configured to post an update to your social media accounts at the time of sending an email - or with a delay. You can use this to post about the email you've just sent - and include a link to the online version of the message if you wish.
We support posting to the following social networks: Facebook, Twitter and LinkedIn.
How-to Guide
Select Messages from the sidebar.
Open your desired email for editing.
Click the

Social

tab along the top of the editor window. The social update section will now appear.
Type the message you want to post to your social pages in the appropriate fields. If you want to include a short link to your message as well, click

. This will add a wildcard behind your message in the chosen field.
For Facebook posts, you can also choose a custom image, title and description to your update if you wish to have more control. This can be added and edited towards the bottom of the screen.

Once you've finished, click
. The setup is now complete - but you'll also need to enable a setting when you're ready to send your email.
When ready to send your email, click Send.
Locate the Social panel towards the bottom of the send screen and use the toggle to switch it on.
If you haven't connected your social media accounts to our platform before, you'll need to click Connect next to each that you wish to use & follow the steps to connect it. You'll only need to do this once.
Once connected, set the radio button to Update for each of the social networks you wish to post to as part of this send and configure the post time (either Immediately, or with a delay).


Each social network can be configured differently if you wish.

If posting to Facebook, you can also use the dropdown provided to select which page to post to (if you manage multiple pages under your Facebook login).

When ready to send your email and post your social update, click
.
Post & Reporting Example
Here's an example of how the above post would appear in Facebook...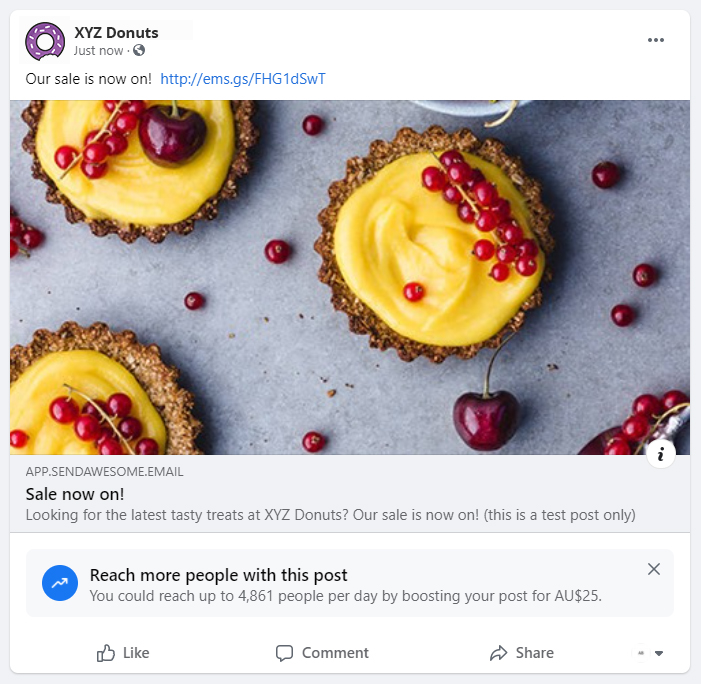 Here's an example of reporting data, once the social post(s) receive click-throughs...