Video
Details
Need to create a form for an event RSVP? Consider trying our Events module - as these forms are created automatically for you. If you're looking to create an NPS survey, we also have a specific guide for this.
Creating forms for surveys, NPS feedback or questionnaires is pretty simple - but as we have several different form types, it's important to think about what form type to use. Here's a quick re-cap on the applicable form types for this type of task;
Subscription form: Whenever this type of form is completed by someone, they will get added to the associated list as a new contact (even if they already exist on the list). This form type is best used if you're placing the form on a website, or are sending out a form link on social media or anywhere else where you can't control who will see it.
Update Profile form: This form can only be completed be someone who already exists on your contact list (ie. existing contacts). Whenever a form of this type is completed, the resulting data is saved against that contact's existing record; which 'updates their profile' with the new information. This form type generally only works if you're sending it out to an existing list of contacts.
What This Example Will Cover
As an example for this article, we will be making a form to send to our existing contacts as part of a competition. The form will ask our contacts to submit their favourite product photo that they have taken, as well as select which of our stores they purchased the item from.
Here's what our competition form will look like: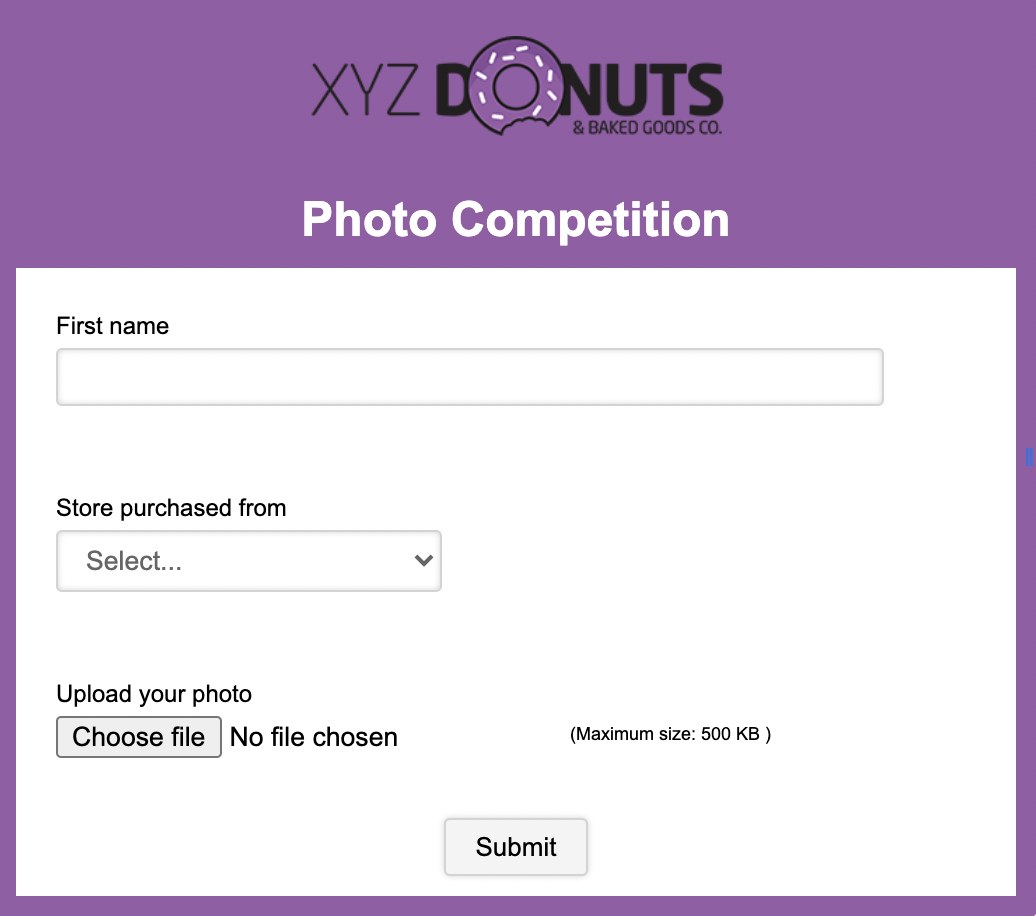 How-to Guide
In this article we will discuss the following areas (click to skip ahead):
Create Your Form
Select Lists and Forms from the sidebar.
Choose your desired list (or create a new list for this purpose, if preferred) and double-click on it to open it into Forms view.
Select the relevant form using the grey tabs (eg.

Subscribe

or

Update Profile

form, depending on your use case - see Details above, if you're not sure). You may also be able to make a brand new form, by clicking the icon (if available on your plan). In this example we're going to be sending this survey to existing contacts, and we want to update their profile with their responses - so we'll be using the Update Profile form.
Once you've selected Update Profile as the form type, switch the view from Login Form to Update Profile using the sub-tabs, as shown below...

On the right hand side, you'll see a list of all fields that already exist on your list. Click the 👁️ icon to show or hide any of the existing fields on the form. In our case, we're going to hide almost everything. The reason we don't need many fields on our form is because we're using an Update Profile form type - so we actually already know a lot about our contacts because we already have the info against their existing contact record. However, if you're using a Subscription form type, you will likely want to include some of these fields on your form so that your contact can fill them in.
Now we need to create some new fields for our various form questions. Click Add New Fields, as shown.

Select the desired field type to create it. In our case, we'll begin by creating a Dropdown field that contains our store locations.
Form field types.
Repeat this process to create any additional new fields you might need - with our example, we need one extra field, which is a File Upload field so that the user can upload their photo. When adding this type of field, you'll also have options for setting a maximum file size, as well as supported filetypes that the user is allowed to upload.
You can now edit the look & feel of your form, if desired - you can also add your logo, additional text, links and so on.
If your survey uses an Update Profile form (as ours does), we can enable a special setting which takes the contact directly to the form when linked from an email (instead of having to login first). To do so, open the Advanced Settings panel to the right, then click Do not show login form if Contact has clicked through from an Email, as shown below.

Finally, let's make it easier to locate this form by renaming it. To do so, double-click on the tab where it currently says Update Profile. A small window will open up.

If required, rename this form to help you identity it.
your changes.
Link to the Form
Once you have created your form, you will likely want to send out an email (or SMS) that links to it. To do so, create an email message then be sure to add a button or text link somewhere within your message which links out to your newly created form.
Here are links to relevant guides for these processes;
Test your Email
When sending a test email that contains a link to a form, 'Update Profile' & 'Update Preferences' forms will ask you to login first - even if you've disabled the login option. This is because the test process sends a generic version of the email - it does not send the email as if it were being sent to a particular contact. If you need to test form links to see the experience your contacts will get, please add yourself to the list as a contact and then use the Send function to send the email just to yourself.
Locate Form Results
Any contacts that submit the form will have their form results saved against their contact record, on the list where the form resides (remember - forms are attached to lists).
Select Contacts from the sidebar.
Locate & select the relevant list from the drop down menus. Contacts on this list are now shown.
If the survey or questionnaire fields are not appearing, you may need to click the Table Settings (small ⚙️) icon towards the top-right of the table and tick the relevant fields to bring them info view (as shown below)...

Click Apply once you've selected the fields to display. The data will now be visible.
If your form contained a file upload field (as ours did), please note that this view will not show the actual file or image - rather, it will show the filename. To view the file or document, open the relevant contact record and click the link to view or download the file.
Enable Email Notifications
If you want to receive email notifications when someone fills out a survey, you will need to set up list notifications:
Select Lists and Forms from the sidebar.
Locate your list and double-click on it to open it into Forms view.
Click the small Details link (as shown).

Go to the

Notifications

tab.
Type your email address into the relevant field and click
.
Downloading Results
Select Lists and Forms from the sidebar.
Tick your relevant list and choose Download from the Actions menu (as shown).

You can then open the file in a spreadsheet application (such as Microsoft Excel or Google Sheets) and all of the data will be available to view.
If your form contained a file upload field (as ours did), please note that the download will not show the file or image - rather, it will show the URL (hosted location) of the file or image where it is saved in our platform. To view the file or document, open the relevant contact record within our platform and click the link to view or download the file.