Insert a table in your email
The use of tables within an email will often cause issues on mobile devices. While we recommend avoiding using tables in your emails, we recognise that sometimes you do need to use them for things like event timetables and so on.
To insert a table within your message:
Hover over a text component and click the Edit Text option that appears
Place your cursor in the spot where you would like the table to appear
Click the blue table function icon from the floating tool bar
Choose Insert Table



Choose how many rows & columns you would like and adjust the other settings for your table (like border color and width)


Once inserted, you can also right click on the table to adjust the settings if required



If you set your table borders to 0, you can show the borders at any time by clicking the red table icon from your toolbar



Once you have finished editing the table make sure you save your email
Mobile compatibility
If you have chosen a mobile-friendly template, you will probably receive a warning message when you insert a table, like this: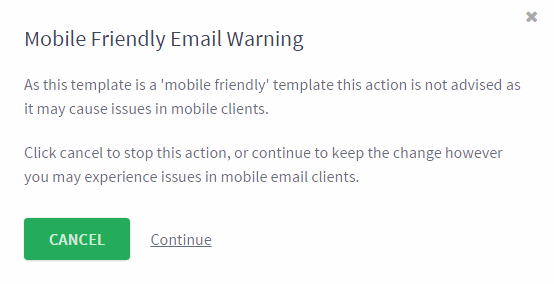 This is because tables can break the format / responsiveness in some mobile clients.
To minimize any formatting issues, we recommend that you set up your table width as a percentage instead of a fixed pixel width - see step 5 and corresponding screenshots above.