As your email service provider, we're already doing lots of things in the background to ensure your email is delivered to the inbox. We also provide a feature that makes it easy for you to configure your domain with Authentication features such as DKIM and SPF.

Internet Service Providers and email clients like Gmail, Yahoo and Outlook use authentication technologies called DKIM and SPF as a way to scan email for Spam or spoofed email addresses. Any email that doesn't pass the DKIM and SPF test, is likely to fall into the Spam or Junk folder.
This means that when you're sending campaigns, to ensure your emails reach your recipients' inboxes we recommend setting up Domain Authentication.
A couple of points to note
Setting up your domain is highly recommended however, it is completely optional.
To set up your domain, you need to change some account settings with your DNS, this will probably mean reaching out to your IT team for assistance.
If you're not sure what domains are, we'd recommend speaking to an IT person before requesting them to configure anything.
Let's get started

You'll need to be the owner or have Full Access in order to set up or edit a domain in your account
Head to Account

 > Domains and select Add Domain to begin.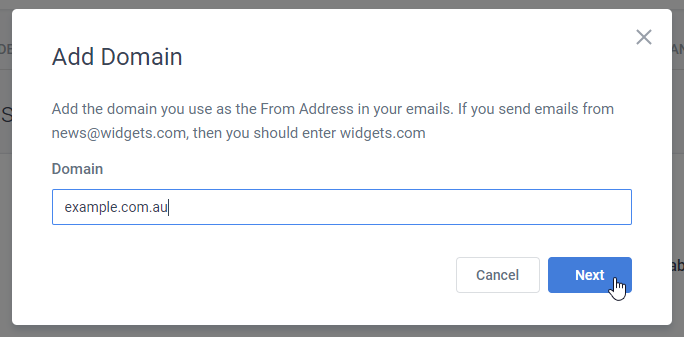 When adding your domain, you don't need to include www, or anything before your domain (for example info@).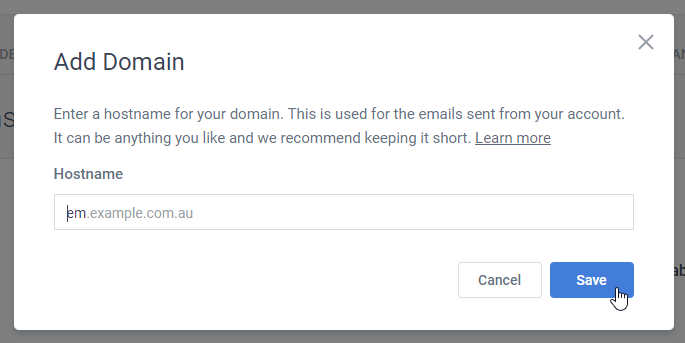 The last step is selecting a subdomain. We'll automatically set this up as comms. - but you're able to customise this to be whatever you prefer. If you're already using something else internally such as 'newsletters.example.com.au', just put 'newsletters' instead of 'comms'.

Once you have entered your domain and hostname (newsletters.example.com.au), this will be used as your sending envelope or return path so we're able to capture bounces.
Important:
There is absolutely no need to configure the hostname, it is completely optional. Just note, the domain will be shown as partially configured. You'll still receive great deliverability.
Any emails sent where the hostname has not been configured, will continue to be sent 'Via mbounces.com'
If you're on our Pro Marketer plan, the hostname will also be used as the domain that will be displayed on any links sent in emails from the platform. Effectively, tracking URLS will be replaced with your own domain which further brands the email as your own.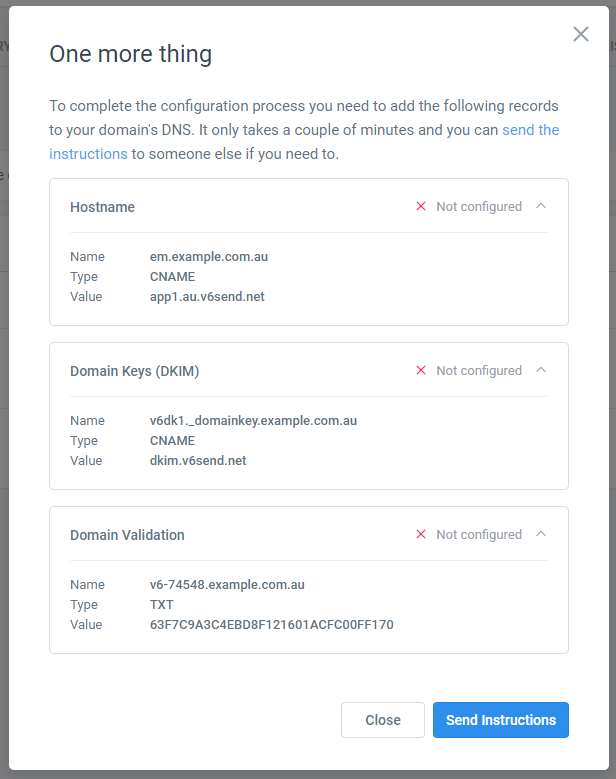 This finalises the configuration of your domain within the platform, the last step is adding these records to your DNS.
Until these records have been added, your set up will not be complete and you won't be sending authenticated mail from the platform.