Details
If you are working in an organisation with multiple departments that use our system, or if you have migrated to a new account, you may find that you are unable to send from your domain. The most common reason for not being able to send from a particular domain is because the domain is likely set up in a different account.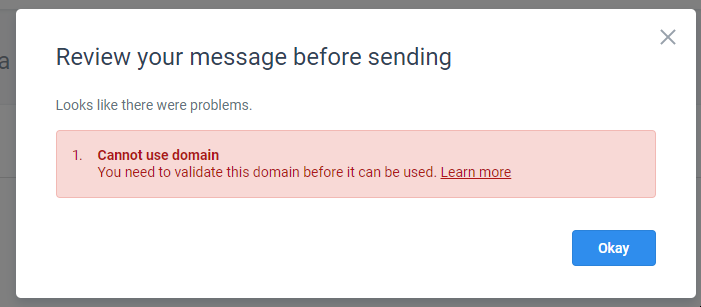 When the domain records are set up in an account for a domain, we block all other accounts from using that domain (unless they have verified the domain, too). This is done as a security measure to help safeguard your domain. To gain the ability to send from this domain your IT or domain administrator will simply have to add a TXT record to the domain.
How-to Guide
Log into your account and open the Account

area

(⚙️ icon, at top right).
Select Domains from the sidebar.
If your domain is not listed here, simply add it in. Hover your mouse over the record and to the right, click
.
Select

Once you or your IT provider add these records to your domain it can take some time to register. Generally though with DNS, it can take up to 48 hours for completion.

and input an email address that you would like the instructions sent to.
The system will automatically check to see if the records are validated, but if you'd like to force that check you can click Test and Check. If all is well your domain will now say Configured and you will be able to send from this domain.


to the right of your domain and select
Further Reading
You can review the complete email authentication & domain setup process here.