Manage everything about your saved emails in one place
The message overview is where you'll manage everything to do with your email campaigns for each message. This includes viewing the history of messages, revert to a previous save state, access to reports and view when a message has been edited or sent as part of an automated campaign.

The message overview is now the main point in the system to update your message details such as your subject lines and also send tests.
On each tab of your Message history, you'll see a brief description of the date, time and user that completed the action. Along with this, a link to interact with the activity such as restoring a previous version of the message or viewing a report.
Message Actions


Selecting 'View Version' will display the first version of your message ever saved, from here you are able to revert to this version.

The Message Edited activity will display when a message has been saved. Exiting a message without saving, even if you edited it will not result in a Message Edit activity in the overview screen.

Selecting the Message Edited activity will display the preview screen where you can preview the version of message saved at that time, from here you can revert to this version without deleting any newer copies you may have created.
Please note: We only store the last 10 versions of your message is saved, any older versions will not display the option to view.

Sending a test email will display as Message tested (test email). You are able to view the report summary from this action.

Once you run an Inbox test, the Message tested (email client test) activity will be displayed, an inbox test will specifically generate a preview of how your email will be displayed in email clients.



Viewing a scheduled send report will take you to the report for this send. From the report you are able to view the send statistics if the message has already been sent. If the message is still pending you are able to reschedule, pause or cancel the send.
Once a message has been sent you are able to view the report for this message.


When a message has been added to an Automation Step, this will be displayed in your overview, and will navigate to the Automation menu with the workflow that the message was added to.

Alternatively, when a Message has been removed from an Automation, this will also be displayed.
Message Options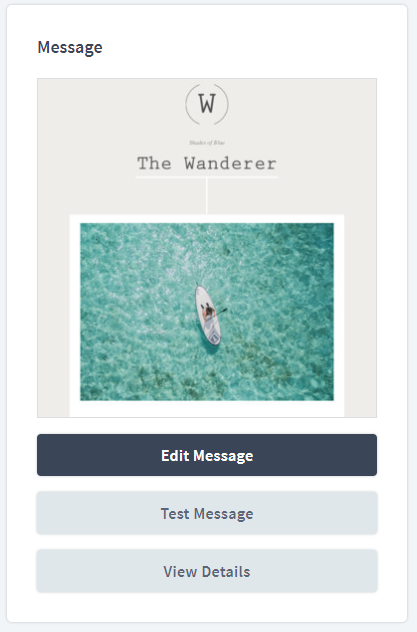 A preview of your message is displayed on the right side, along with the options to Preview, edit, test or view details. You are able to send a test message or create an inbox test by clicking the 'Test Message' button.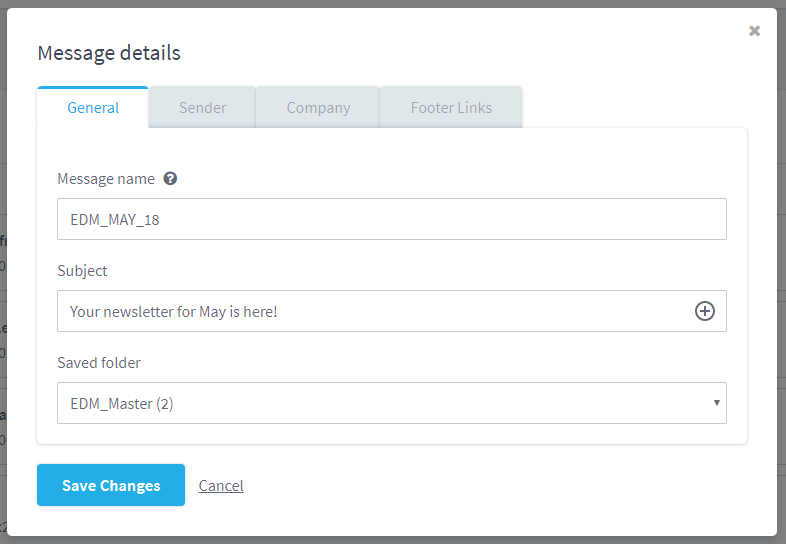 Message details are updated from the overview screen, this includes Message name, subject as well as the sender details and footer link options.
Please note: Updating the Subject on a scheduled message will not be reflected in the scheduled send/s.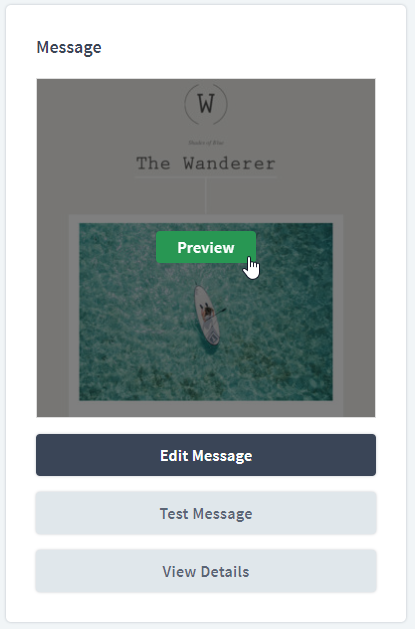 Hovering over the Message thumbnail will allow you to Preview your message, this will also give you the option to view and restore previous versions of your message.