Details
With an open rate of over 99%, SMS is an effective way to increase your digital marketing impact. And using SMS within your email marketing product holds some great benefits!
SMS is integrated with Reports
In your email marketing account Reports help you gain a lot of useful insights into your email marketing efforts. Did you know that you can also gain a lot of insights through Reports when you use SMS?
When you use the system number (or a virtual number - more on that further down the page) you can collect and view responses to your SMS marketing directly through Reports.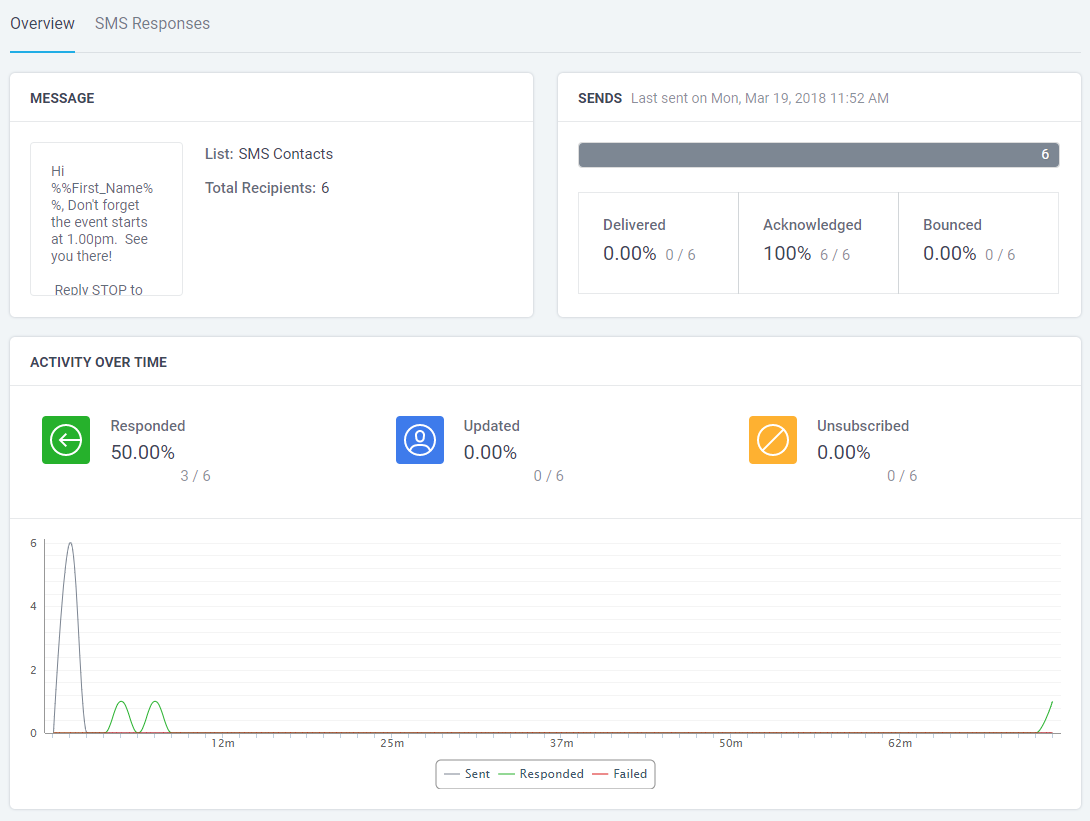 Another benefit is that contacts can automatically unsubscribe through SMS, which means that you don't have to manually update your unsubscribers.
Dedicated SMS number
Through our SMS provider, we can obtain a dedicated SMS number for your SMS marketing. This is what we call a virtual number. As mentioned above, virtual numbers are fully integrated with Reports in your email marketing account.
If you see SMS marketing as being an important and on-going part of your digital marketing strategy, we recommend that you obtain a virtual number. Your virtual number will be your own, so you can put it on print and digital marketing materials, use it to run competitions, use it as an alternative method of customer enquiry and more.
There are set-up and ongoing monthly costs to obtain a virtual number. If this is something you're interested in, please submit a request with our Customer Success Team to find out more.
If you do want to get your own virtual number, make sure you get in early - virtual numbers can take up to 10 business days to set up. Ideally, you should leave time to have the virtual number set up and to run a couple of tests.
Use SMS with Autoresponders and Automated Campaigns
If you're using a virtual number and your customer sends you a message, you might want to send your customer a SMS or email notification to let them know you've received their enquiry and will be in touch soon. You might also like to receive a notification yourself, with the phone number and enquiry details of your customer.
Another benefit to using SMS in your email marketing account is that you can easily set up the above notifications with Autoresponders and Automated Campaigns. Want to find out more? Ask our Customer Success Team to give you a call.
Better Deliverability
We use a tier 1 aggregator who purchase SMS traffic directly from the Australian networks. This means better deliverability of your SMS messages to Australian networks.
We also have a great relationship with our provider, which allows fast and direct investigation of any SMS enquiries.