Achieve brand consistency across your accounts
Setting up your branding and setting the product access will assist you in achieving brand consistency across your accounts and in your email sends. Brand consistency plays a large part in your contact's trust in your brand. If your contacts trust your brand and the content they receive from you, they will be more likely to interact with your emails.
There are 3 steps to achieve this:
To set up the account branding:
Login to your head account.
Click 'Account' in the top right.




Click 'Branding' in the horizontal navbar




Then click 'Add branding' :



In here you can : 
Upload your logo (width 200px x height 60px).
Set a master colour.
Uploading a powered by logo (width 65px x height 24px).
Name your branding for easy identification.


Then simply click 'Save Branding'.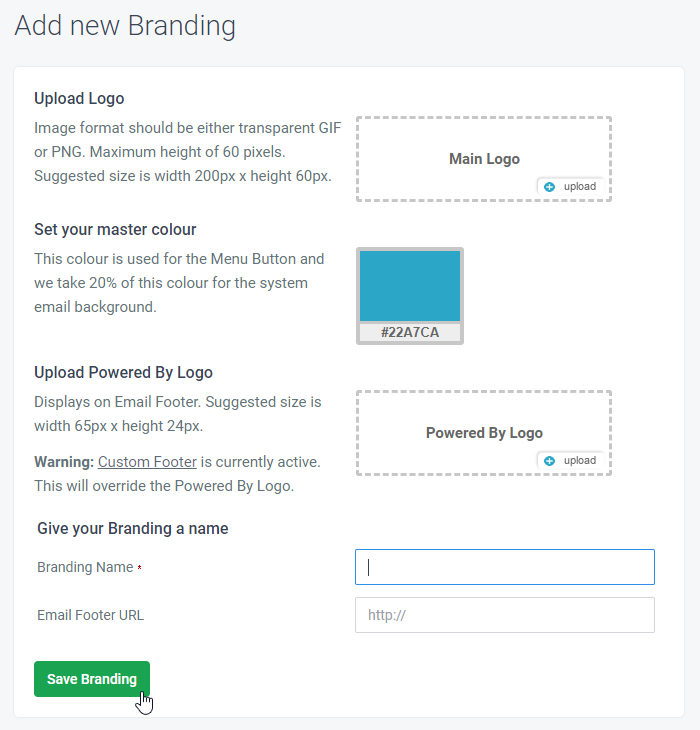 You can create as many different brands as you like.  If you set up multiple brands in your account you can assign each brand to a different configured domain.  The benefit of doing this is that the system will automatically populate the system footer with the correct logo and footer URL.  
To set branding against a configured domain:
Go to 'Account' and click on 'Domains' on the horizontal navbar
Click the ellipsis next to one of your configured domains
Select 'Advanced Settings'
Select the branding that you have saved from the dropdown menu

Click 'save' then repeat the process for any other domains you would like to specify branding for. 
Use a hostname for product access and link branding
Turning this feature on does two things.  Firstly, it will set the product access to use the hostname.  This will mean that you can log in to the system via this URL.  Please note that you don't have to. You are able to continue logging in through the default URL you have been using.  
The second thing that will change is that your tracking links will use the hostname instead of the default domain.  This feature is what will assist with the brand consistency in your email sends. You may have noticed in some test sends you've done that if you hover your mouse over a link, the URL uses our domain.  This is a tracking link and is used to provide accurate reporting for your email sends. Having this feature on will mean that instead of our domain, your hostname record will be seen here. This will help your contacts to trust your content because they won't see a domain they aren't expecting to see when interacting with your emails.
Please note that in order to use these features you must first configure your domain records.
To turn these features on:
 Go to Account > Domains and click the ellipsis next to your configured domain
Select 'Advanced Settings'


Click the toggle so that it says 'on', click 'save' and you are done!


How to apply the branding or product access to your sub account:
Click 'Admin' from within your head account.
Double click onto the client account or click 'edit' to the right.
Click to edit the 'Account Details'.
Then using the drop down options select the Branding and Hostname you created for this account.
'Save' your changes.