SMS responses are collected by the system when you use the system number for sending. This article details where the responses are available, and how to collect these responses against your contact records.
SMS Responses in Reports
Once an SMS has been sent, you can view your report on that send to see if it has been delivered, acknowledged, bounced, or failed.
Here in the report you will also see a menu option called 'SMS Responses'. From here you can view the responses from the recipients who have responded to your SMS.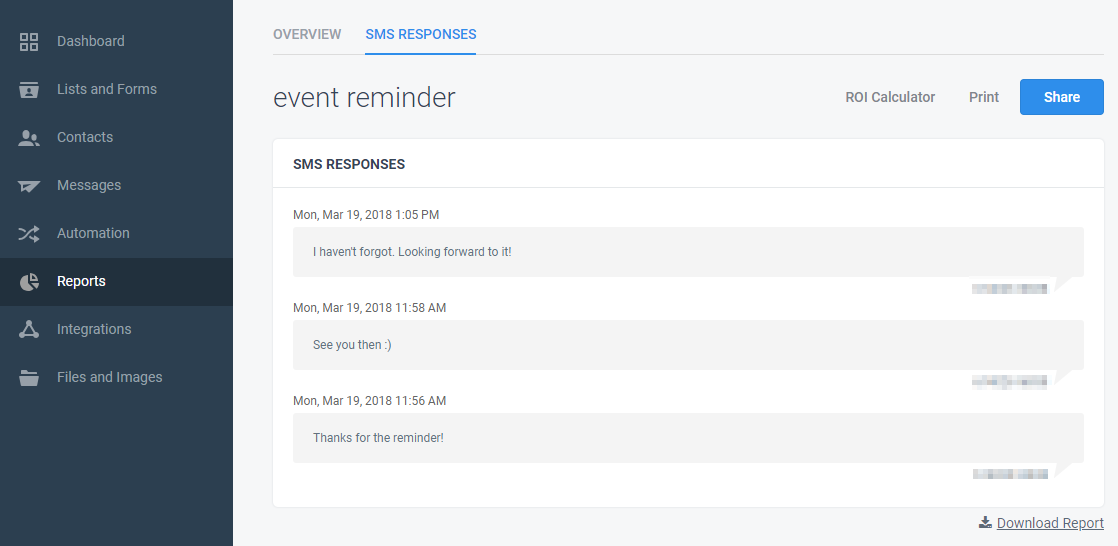 Adding SMS Responses to your Contact List
If you wish to add the SMS responses back into the list against the contact who replied, you will need to set this up by following the instructions below.
Go to 'Lists and Forms'.
Select the list that you plan to send your SMS to.
Click 'Edit Forms' from the Actions menu.




Add in a Comments field by clicking 'Add New Fields' on the right side of the page.




It's best to give the field an easily identifiable name, like 'SMS Responses'. -This is where the responses to your SMS will be stored.
Click the blue 'Add' to add the new field to your form then click the blue 'Save' button in the top right corner of the page.
Click the 'Details' link to access the list settings




Select the 'SMS Settings' tab.
Select 'Update Contact' from the options available.
Using the arrows select the Field you wish the SMS Responses added to.




Save your Changes.
Please note: It is recommended to set up a responses field for each SMS send, otherwise the next response from your contact will override the existing stored response in that field.