Details
The Click Map is a great tool to visually see link popularity in your email message. The larger the hotspot is, the more link clicks you have on that link. You can also hover over a hotspot to view click and open statistics for that link.
To see the Click Map, select Reporting from the sidebar, open your desired email report, then select the Click Map tab along the top.
As with all email systems, reporting data will never be accurate is an email is forwarded, or sent to an email distribution list - as tracking links in an email are designed to be unique to a specific, singular contact record.
If the email uses conditional content, then statistics for only the default condition will be shown. If a link has been clicked under another condition it won't be included in the heatmap. This will also affect the the figure shown as they only represent the data of links clicked based on the current condition.
Due to Microsoft Outlook compatibility issues*, our system renders separate buttons for contacts viewing your email in Outlook. As a result, the Click Map Report will not display visual click data for any Outlook users that clicked on buttons - as there is nothing visual to attach the heatmap spots to. Click data is, however, counted in the various other relevant reporting statistics. (*Microsoft Outlook uses the old Microsoft Word rendering engine to display emails; an engine designed primarily for printing documents - hence the workarounds that email marketing platforms like ours must use to ensure maximum compatibility where possible).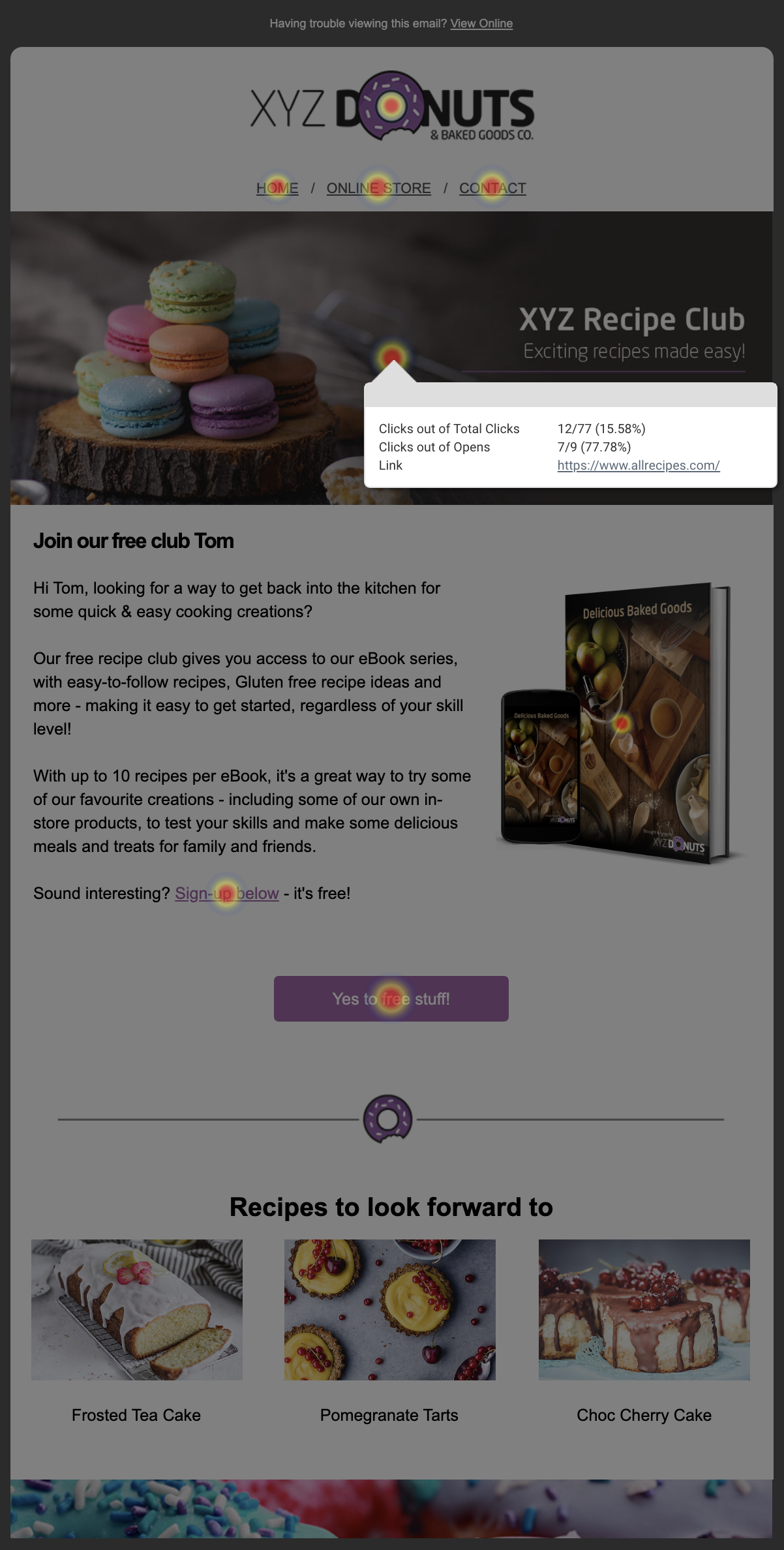 What Do the Numbers Mean?
There are three ways links can be clicked: By a contact who received the email in their inbox, By a contact that received your email in their inbox and then went to view their specific 'online' version of the email (a personalised link that's unique to them), and finally By unknown people who view the generic public version of the email (a generic 'online' link to the email).

Clicks from known contacts viewing their unique 'online' version of the email are included in these statistics. However, clicks from unknown people (ie. people that view the generic 'online' version of the email and click on links) are NOT included here, as we cannot attribute these clicks to anyone if they're coming via a generic / public 'online' version of the email. Because of this, some of the figures on this report will not match the Link Report.
Clicks out of Total Clicks: This first number is the total number of non-unique times the link was clicked. The second number is the total number of non-unique clicks across your entire email for all contacts added together.


In our screenshot above, you can see that the link in question was clicked on 12 times and that the entire email had 77 clicks recorded. As only 9 people opened our email (we can see this in the statistics below), we can deduce that some of our contacts must have clicked this link more than once.

Clicks out of Opens: The first number is a count of unique clicks against the given link. The second number is the total number of opens that this email had (this figure will generally match the 'Opened' number on the Reporting Overview screen).


In our screenshot above, you can see that the link in question had 7 unique clicks and that 9 contacts opened our email. As such, we can deduce that 2 contacts must not have clicked on this particular link.
How Can You Use This Data?
If you notice that not many of your recipients are clicking on a link / call to action which is down past the halfway mark in your email, you may want to move your link / call to action further up the email for future sends.
The click map is a handy visual guide which you can use to determine if links and your call to action should be relocated to a more prominent position.
If your email is fairly generic in nature (eg. an eNewsletter covering a broad range of subjects), you can use this data to see what types of topics are of interest to your contacts and adjust the position of popular topics in future newsletters.
You can also use this data to made educated design decisions based on what types of links contacts prefer to click - either image links, text links or buttons. Knowing what type of links contacts click on can assist in certain design considerations when you next redesign your email template.