Details
In most instances, the Dashboard (shown below) is the default view you'll see when logging into our emails & SMS marketing platform.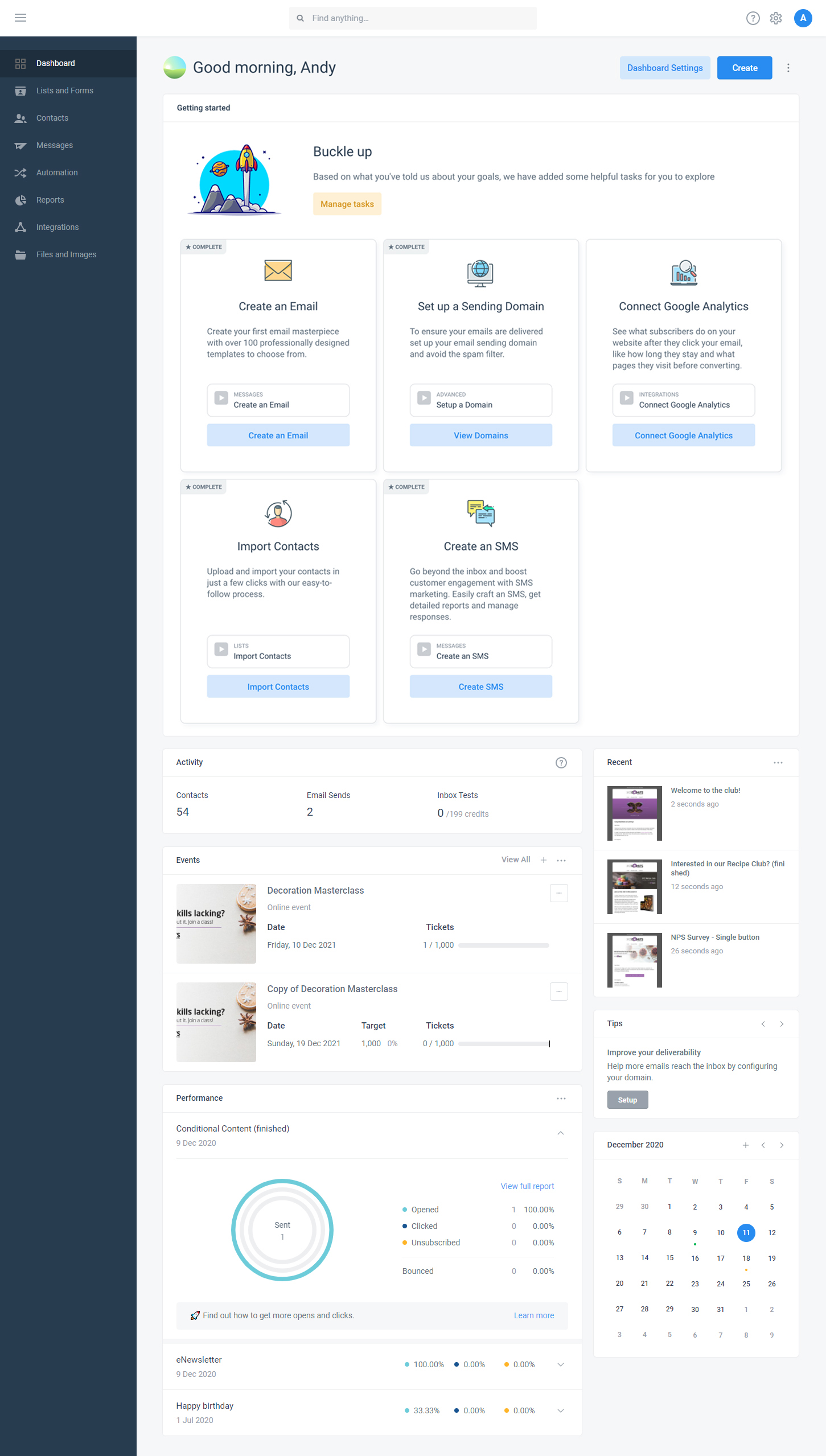 Dashboard Areas
The dashboard contains a number of different sections;
lets you manage which panels are shown on your dashboard.
The large Getting started card gives you quick access to key functions in order to setup your account and get started in the platform - such as importing contacts and creating an email. The task cards shown within this section will vary depending on what option you selected when you first created your account. You can use the options provided on the task cards to watch a quick video, view the full how-to guide in our support centre (which is where you are now), jump directly to the section in question within the platform - or dismiss the task entirely. lets you set what tasks appear within the Getting started section.
The Activity card shows key account information. Find out more about the Dashboard Activity Card.

The Activity panel updates every 15 minutes.

The Events card shows upcoming events that were created in our platform, and / or via our Eventbrite integration (both are supported at the same time), sorted by the event date - with the next upcoming event shown first. Explore our Events Overview for more details.
The Performance card displays statistics for several recent email sends, with the option to view the full report for a particular send.
The Recent card shows recent emails that have been created or edited in the platform. You can easily go back to working on these by mousing over them.
The Tips card provided useful hints and tricks.
The Marketing Calendar card lets you view your upcoming scheduled sends, view past sends as well as set tasks and reminders for other staff. Find out more about the Dashboard Marketing Calendar.
Some panels offer additional configuration options by clicking … to the top-right of the panel.