Send from a domain that has been configured in another account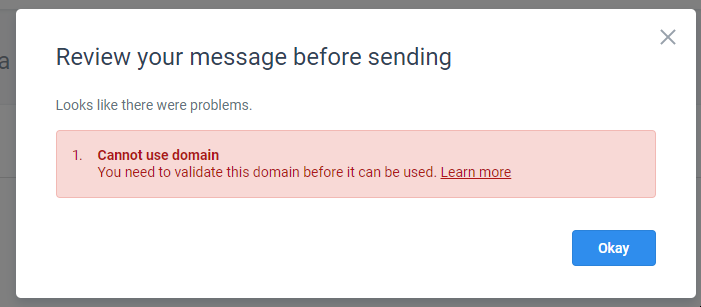 If you are working in an organisation with multiple departments that use our system, or if you have migrated to a new account, you may find that you are unable to send from your domain.  The most common reason for not being able to send from a particular domain is because the domain is likely set up in a different account.
When the domain records are set up in an account for a domain, we block all other accounts from using that domain.  This is done as a security measure to help safeguard your domain.

To gain the ability to send from this domain your IT or domain administrator will simply have to add a TXT record to the domain.  
To send the required record to your IT/domain administrator go Account > Domains.  If your domain is not listed there, simply add it in.  Hover your mouse over the record and to the right click on 'view details'.  Select 'Send Instructions' and input an email address that you would like the instructions sent to.  

Once your IT have confirmed that the record is added you can come back to this menu and click the ellipsis to the right of the domain, then select 'test and check'.  If the record is setup correctly, your domain will now say 'configured' and you are able to send from this domain.


You can review the domain setup process here.