Providing feedback on the product is something we highly value from clients.  With that in mind our feedback tools are quite comprehensive and allow users to specifically and graphically point out and impart their ideas and suggestions.
In the upper right corner of the interface is a questions mark icon.  Clicking this will give you two options : 
1. Navigate to the help centre
2. Provide feedback using the integrated feedback tool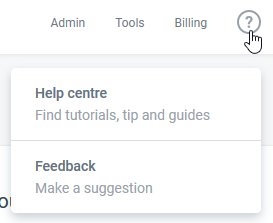 Clicking the 'Feedback' option brings you to screen overlay which prompts for either star rating out of 5 for the product along with a input field for text feedback, or an option to draw on the screen.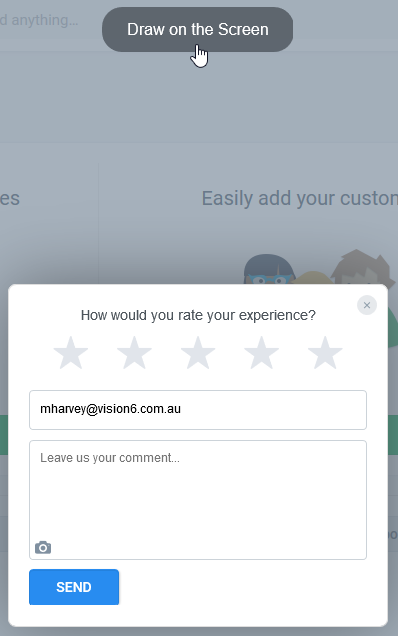 Opting to draw on the screen presents a new toolbar at the top, which has multiple options for graphically indicating your feedback.



There are 6 options in the toolbar, each with a different purpose : 


1. Highlight an area with a marquee 



2. Blackout content which could be sensitive or for other uses



3. Pencil tool for drawing freehand



4. A line tool 



5. An arrow tool



6. A comment tool



Each time any tool is used a dialogue box will pop up with the option to attach a comment 


If no comment is needed, clicking the 'delete' link will cancel the comment but keep graphic.
Unwanted graphics can be deleted by hovering over them and clicking on the 'X' icon

The colour of the graphics being drawn can be changed in the toolbar by hovering over the coloured dot below the particular tool icon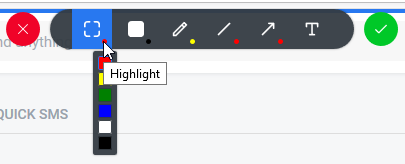 Once you're happy with the graphical elements you have created, you can click the green tick button and the screenshot will be saved and attached to a comment box, in which you can leave a description :