We're glad you've decided to use Vision6 for your email.  You've found a provider that meets all of your needs and it's time to make the switch.  Switching to Vision6 needn't be a difficult task if you're armed with the right information!
Gather all your info from your provider
The first thing you need to do is download all of the information you need from your existing provider. A couple of things to make sure you've got:

Step 1 - Download your email lists
Step 2 - Download your unsubscribes
How to export your contacts from Mailchimp
How to export your contacts from Campaign Monitor
Or use the export tool in any other platform that you use.

Step 3 - Download creative assets
This will depend on how you have created your email templates.  Don't forget images and other assets.
You may also want to keep like old reports or billing invoices.


Upload your data into Vision6
Step 1 - Upload a suppression list of previous unsubscribers

When you move your contacts into the email marketing system, you need to make sure these contacts are still excluded.
Before you upload ANY contacts in your account (and even before you upgrade your account if possible) you should upload your suppression list of previous unsubscribers. Here is how:
Follow the steps for uploading a contact list into the email marketing system.
Once uploaded, go to 'Contacts' in the system.
Your suppression list should be showing on the screen. If it isn't, navigate to the suppression list using the 'Folder' and 'List' drop down menu's up the top.
Tick the first check box at the top of the contact list. This will select all the contacts currently on the screen.
A yellow text box will appear. In this text box click the 'Select All' option.



Then choose the 'Unsubscribe' option from the Actions menu at the bottom of the page.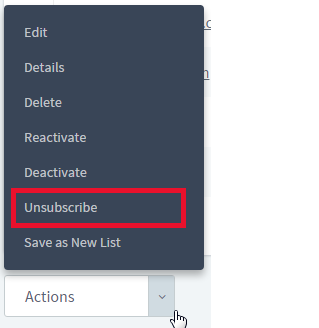 Confirm that you want to unsubscribe all the contacts.
When the contacts are unsubscribed, go to 'Lists and Forms'.
Select the suppression list from the items available.
Choose 'Delete' from the Actions menu at the bottom of the page.
Confirm that you want to delete this list.
Contacts from the suppression list will now be stored in the global unsubscriber list in your account. You can find this list by going to 'Contacts' and then 'Unsubscribers' from up the top of the screen.

Please note that only contact lists uploaded AFTER the above process has been completed will be washed against the suppression list. Existing contact lists (before suppression list was uploaded) will not be washed against the suppression list retroactively. If you have a list of unsubscribers that you wish to have washed against your existing list in your account, please submit a support ticket where we can assist with this.
Step 2 - Upload your contacts into Vision6
Before you start think about your list structure and if you want to make any improvements before you upload your lists.  
The system will accept either a CSV / Excel file or a simple copy and paste. The easiest way if you are migrating to us from another provider is to bulk upload your contacts.
Select 'Contacts' from the left menu then select the 'Upload Contacts' button.




In this example, we'll use the 'File Upload', you are then prompted to browse for a file on your cComputer. File size lLimitations on file upload are:
CSV, TAB, TXT files: Max 10mb

XLS, XLSX files: Max 3mb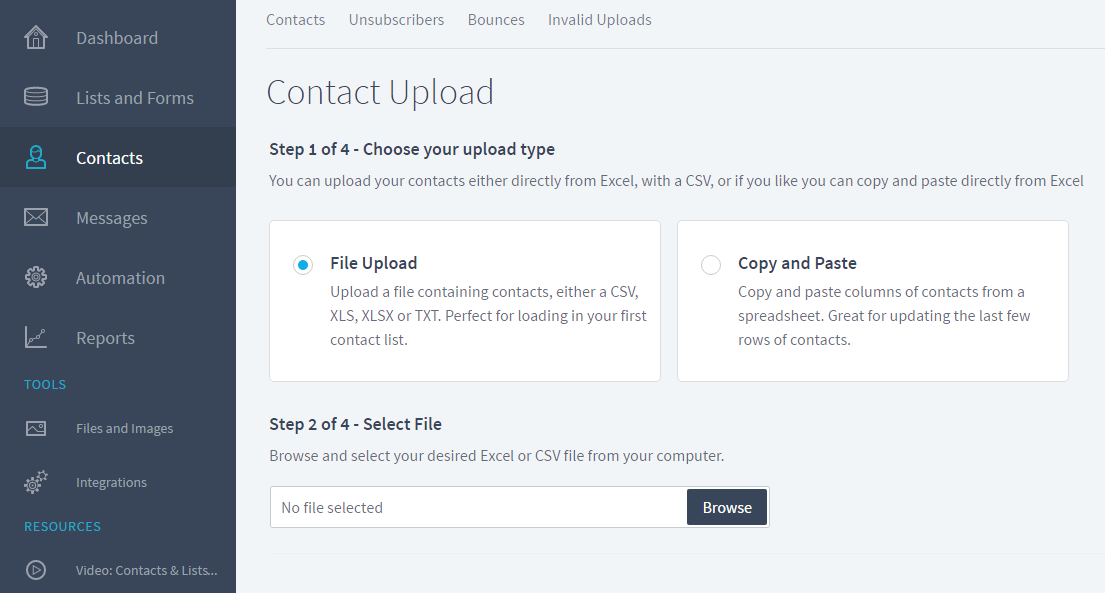 Once you have selected a file, choose between creating a new list or adding the contacts to an existing list in your account and click 'Next'.



Confirm your field headings by selecting the down arrow and selecting an existing field option or simply click the the plus sign to create a new field for the content. This will set up the fields for your list.



At the field mapping stage you can also change the field type to make it easier to search and segment your contacts at a later stage. To do this:
Click the pencil looking icon to the right of the field.



Choose the desired type of field from the 'field type' drop down box. For a 'State' field I would recommend a drop down field type.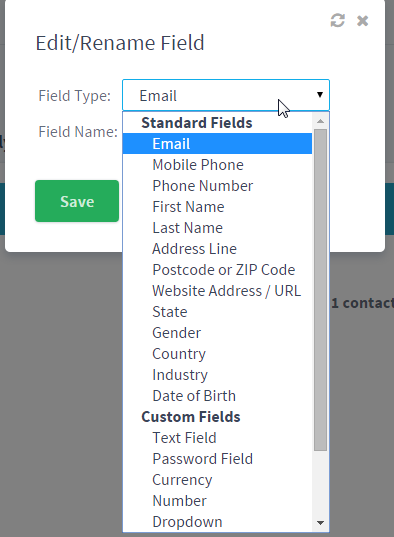 Once the field has been selected, click the green 'Save' button.
Prior to uploading, we do recommended checking the Advanced Settings (found just underneath the import button) and ensure you are happy with how the system will upload your contacts.
Click 'Import' to start importing your list.
Step 3 - Create your email templates
Recreate your templates using a drag and drop editor to create the basic layout again.  Or if you have a raw HTML design you can upload that using the raw HTML option.
There are lots of resources to help you create awesome looking emails including this video that will take you through the basics.  



If you've just switched or are thinking about making the switch to Vision6 and need a hand get in touch!
We've also got stacks of free training to help you unlock the potential of email marketing and get awesome results with your new Vision6 account.