The File Manager is the location in your account where you would manage all of your uploaded files. Whether they're images, word documents, PDFs or whatever you need, this is where they're kept and organised.
This article will help you learn how you can manage these uploaded items in your file manager. Here is a list of what we will be covering (please click to skip ahead): 
Folders
The file manager works a lot like most other programs, in that you can create, name and organise folders to store your files. By clicking the little gear icon, you can see where the options are to edit and create new folders: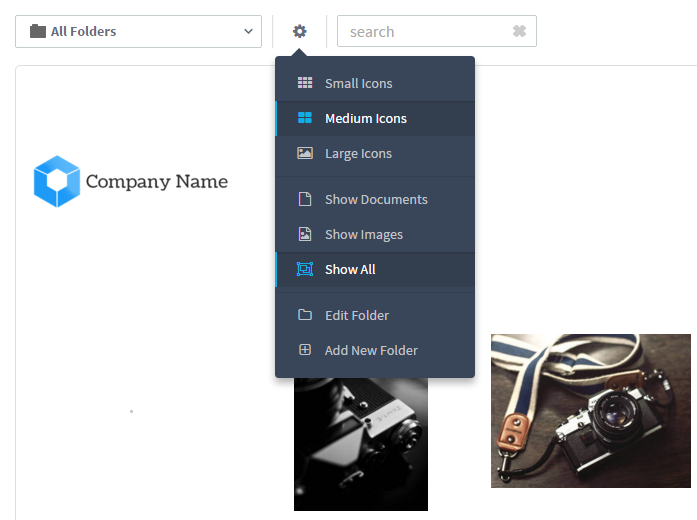 Similarly, clicking the drop down arrow where it says "default folder" will show you all available folders.  Clicking on one will display everything inside that folder.
System Folders
If you see some folders in there with a padlock icon on them, this means that they're default system folders and therefore can not be edited: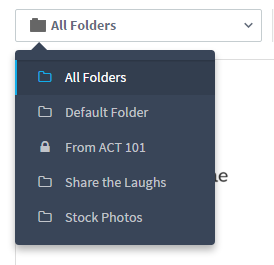 File Details
If you hover your mouse cursor over an item displayed, you will be shown some information regarding its properties, as well as a little triangle icon in the bottom right corner: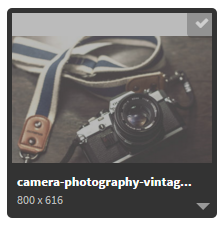 Clicking this little triangle, or down arrow, will reveal a much more detailed breakdown of the file and its properties:


Selecting a file or multiple files
Single clicking on a file, will select it.  You can tell if a file is selected by whether or not it has a tick in the top right corner.  You can select multiple files by going through and clicking once on them.  You can deselect files by clicking them a second time and you can also clear the entire selection, by clicking "clear selection" which appears in the top bar of the file manager when multiple files are selected:



This comes in handy when you need to move files around in between folders, or to delete multiple files or to even bulk download files.  When files are selected like this, these options are found in the bottom right corner:



Uploading new files and checking used space
In the bottom left corner, is the 'upload files' button along with some statistical information regarding your file manager:





Clicking the 'upload files' button gives you a choice of two options, as well as some advanced settings, on how you would like to upload your files: