Please note:
Only Reseller and Corporate account types have access to the Admin menu.
The Admin menu contains the tools to access, edit and implement features for sub accounts. Unlike the account menu which contains features and settings for your account, the Admin menu allows you to implement features and review usage of your sub accounts.

The video below also covers your admin settings, and general account management.
The link to the Admin area will appear inside your account in the top right corner, next to your Account menu.
From this section you will find your Administration features for your sub accounts:
Account Search

Add Account

Trial Account

Current Sessions

Usage Overview

Resources

Welcome Message

Email Footer

Email Settings
Account Search

Account search will allow you to sort through all sub accounts in your Reseller account. You are able to edit, deactivate, delete and log into accounts from here. You can search through accounts, or utilise the advanced search tool to segment out accounts based on their status, name, creation time etc. This is a more advanced version of account management than you might find on the Client Dashboard.
Add Account

An alternative method of adding accounts is done via the Admin panel. This requires entering all details of the account, this will also guide you through selecting a plan, as well as reseller or client pays option.
Trial Accounts

Trial accounts will display any account that is still in trial state, you are able to review the activity of the account, sort accounts by status or delete trial accounts. This may only be useful when utilising the public signup form.
Current Sessions

Any active user of your Reseller account, or sub accounts will be displayed, including the browser, resolution and IP. You can also view the last page viewed by each user and their Trial state. It is possible if require to Kick a user off the platform, or Kick and Deactivate a User from this menu.
Note:
Deactivating a user will prevent them from logging back into the system.
Usage Overview

Rather than accessing each account to view usage, this screen will display a total of any usage for each account, additionally, you are able to see usage trends for each account. A great way to review usage over time for each account.
Resources

Adding a trial signup form to your website can be a great way to passively add clients. You are able to determine whether you'll pay, or your client will pay by default, this will allow users to sign up to your account without requiring you to first add the account.
The delivery monitor will display scheduled, pending, current and cancelled sends for your account and your sub accounts. This is a live feed of the emails being sent from your account, as well as any sends completed today.
Welcome Message

If you've got a message for your client accounts, you can enter it here. This will display each time the client logs in. Forcing the message will display the message even if they've collapsed the welcome message previously. You can customise this message with wildcards, and you are also able to utilise HTML.

Email Footer

As a Reseller, you are able to customise the footer displayed in your account, as well as your client accounts. This will replace the default footer displayed from your branding, you are also able to customise the footer for each sub account via the edit account screen.
Note:
To ensure the automatic links selected in the Message view details panel (Unsubscribe, Update Preferences, Update Profile) continue to operate, you must include the wildcard:  %%_auto_links%%
Email Settings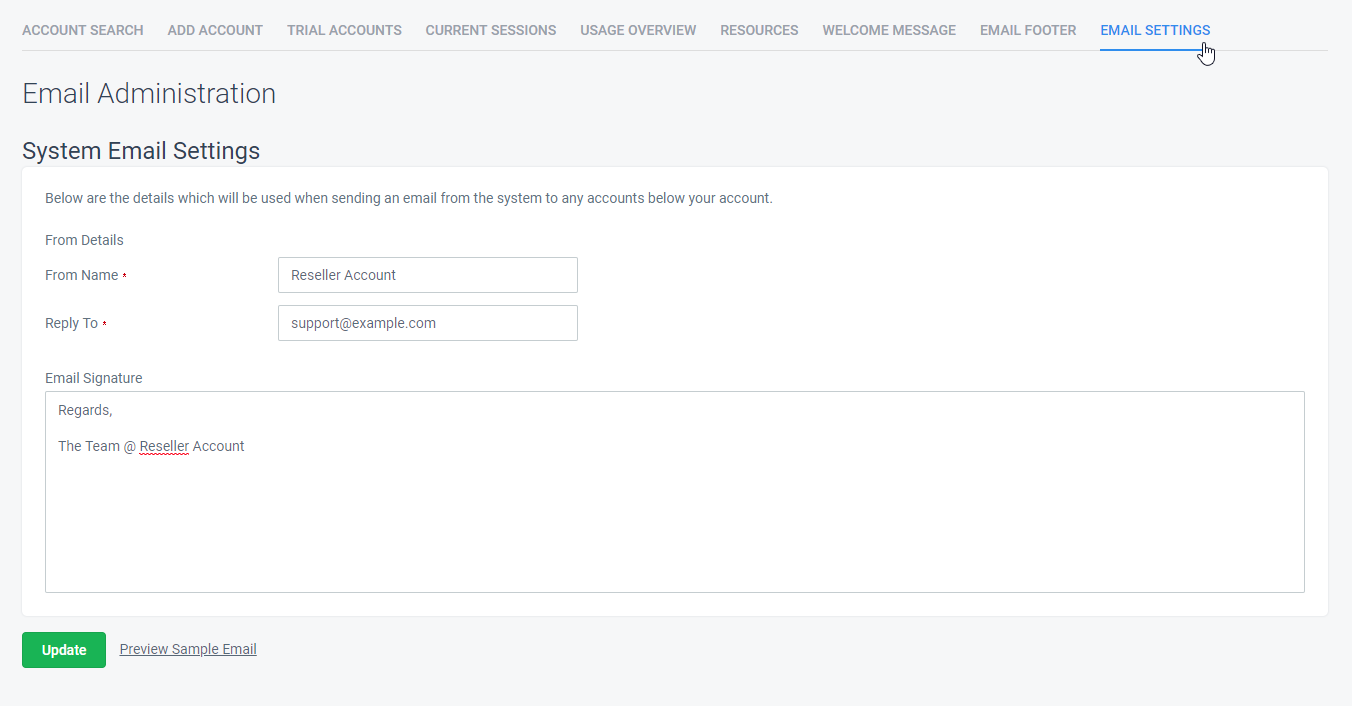 Any automated email sent through to your accounts will utilise these settings - list notifications (subscribe, update, unsubscribe), scheduled send notifications, and system emails.