The system can create variables in your messages that will change based on the contact who receives your message.
We call these variables 'Wildcards' and the most common use is to personalise your message by adding the contacts First Name.
The content of these isn't just limited to First name. Any of the fields contained in a contact list can be used and they can even include images.
This article has been designed to help you with everything you need to know about wildcards, including how to insert them and how to test them. Here is a list of what we will be covering (click to skip ahead):
Inserting a Wildcard
If you would like to insert a wildcard (also known as a mailmerge) into your message, you can do so via the message editor:


Place your cursor where you would like the wildcard to appear.
Click on the 'Wildcard' button from the floating tool bar, and choose the list and list field that you would like to apply for the wildcard. 




The 'Fallback' option is what will appear for the recipient if they do not have any data in the selected wildcard field.
Once your Wildcard has been inserted in your message it will appear as a code with %% in front and behind the field name with _ for any spaces between the words. eg %%First_Name%%

Personalise your subject line with wildcards
You can also personalise your subject line with your contacts information using wildcards. For example, you might like to include the persons first name in the subject. Here's how:
Go to 'Messages'.
Select the message.
From the 'Actions' menu, choose 'Edit Details'.




In the 'Email Subject' field, place your cursor where you would like to insert the personalisation.
Click the pencil looking icon to the right of the subject field.
From the first drop down, choose the list that you will be sending this message to.
From the second drop down, choose the field that you want to use to personalise the subject line (e.g. First Name).
Click the 'Insert Wildcard' button.




You should now have a wildcard in your subject line, and you can type the rest of your subject around the wildcard.




Click the save button when you are finished to finalise your changes.
Inserting an image wildcard
Generally speaking, if you do have a requirement for a dynamic image in your message, using the Conditional Content feature would be a much simpler process to follow.
But if the conditional content process does not meet your requirements, you can also insert a wildcarded image into your message by tweaking the HTML a little bit. Here is how:
Create customized images to be used as the wildcards. In my example I am using head shots of agents.
Save these images with easily identifiable names, like the persons name for example. I am using business women jpg and business man jpg for my example.
Upload these images into a new folder in your Files and Images Manager. (you may want to copy the image URLs at this stage)
Edit your list of contacts and add a field that will determine which image is associated with which contact record. I added a field called 'Agent Image URL'.
Update that field with the URL address that is created for the images that you uploaded. This URL can be found by clicking 'View' button and grabbing it from the address bar at the top of the screen.



Once you have uploaded the images and added their links against your contacts, the next step is to add the wildcard to the message.


Go to 'Messages' and edit the message you wish to add the image wildcards to.
Inside of a text area (either a Text Box or Paragraph), place your mouse where you wish to insert the wildcarded image.
Click the insert 'Image' icon on the toolbar.
Select one of the images in the folder you created for this purpose at the size you require. I used 100 px width. Insert this image into the message.
Click the 'HTML' button on the tool bar.
In the code, find the URL for the image you just inserted.




Replace the source with the wildcard that links to the field that contains the URLs for the images.




Click the 'Update' button and the image will appear broken in your message. This is ok.




Save your changes to the message.
Then test this by 'Previewing' the message against the list that contains the URL images. Then simply flick through the contacts using the arrows and you will notice the image is now displaying correctly and changing based on the image that is assigned to the contact record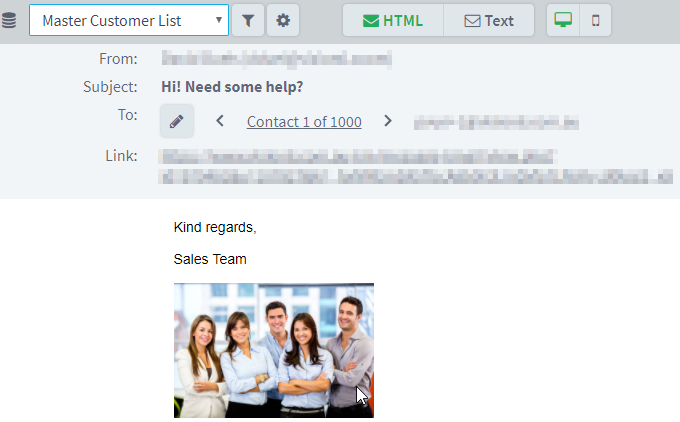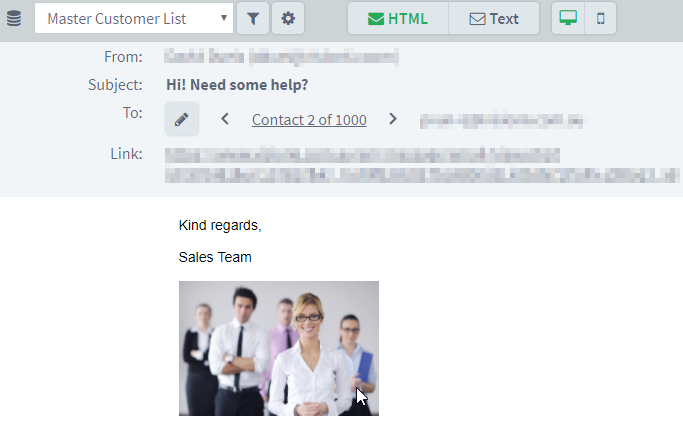 Insert a variable URL Link in to a message
This type of wildcard would be used if you need to link to unique documents for each recipient such as contracts or invoices. Here's how:
You will need to create a column in your contacts list called something like "Unique Link".
You will then need to update this field with all the unique URL's so they are stored against the contact records.
Then in your message, add the text for your link (E.g. "click here"), or the image that you wish to place the link on to these URL's.
Select the text or image and insert a functioning link. This step is important as you need to make the link function before you can wildcard it. (I normally just link through to www.google.com when doing this).
After the link is inserted, click the 'HTML' button on your edit toolbar.
Find where www.google.com is in the code:

Please <a href="http://www.google.com" target="_blank">click here</a> to complete the survey.


Then replaced the URL with the wildcard so it read as:

Please <a href="%%Unique_Link%%" target="_blank">click here</a> to complete the survey.


Then click 'update' and 'save' the changes to the message
Test the Wildcard
Preview the message you are creating.




Select the list you would be sending this to up the top left.




Flick through the contacts with the arrows and you will noticed that the wildcards will change depending on the contact record - if it does then it is working correctly


If you have troubles with your wildcards, please refer to the article called 'Some %%wildcards%% in your Message do not match'