Are you looking to set up an automated process where your subscribers are automatically emailed out information relevant to their enquiry? 
For example, a customer enquires about a specific course you are running. They enquire through a form with check-box options: Course 1, Course 2, Course 3. The customer is automatically emailed the information relevant to their course selection.
Another example, is if you would like your subscribers to be able to choose which subscription / list they wish to subscribe to by selecting the relevant check-box options.
These types of automations can add great value to your customers by delivering to them highly targeted and relevant content, all while minimising the amount of man hours you would usually dedicate to this type of email campaign.
If this type of automated Campaign is something you would like to incorporate into your account set up, please read on for a step by step guide on how to go about setting it up.
Please note: These instructions assume you have already set up the relevant form in your account and that you already have the Advanced Automation module active in your account.
1. Plan your Advanced Automation
Plan your automation by listing all the messages you intend to deliver during your email campaign, the relevant list these are to be activated against, and any time frames.
2. Create your messages
Go to menu option > Messages



Create your email as you would your normal messages and save it.



For this case you would need to create messages for Course 1, Course 2, Course 3.
3. Create your Advanced Automation
Go to menu option > Automation


Select Advanced Automation from the top horizontal menu


Select New Workflow on the right hand side


Enter the name of your automated campaign


Select the preferred Start and End date, and click > New Step



4. Create your campaign steps
STEP 1: "If customer selects Course 1 through form, send "Course 1 Information" email"
Now you have clicked 'New Step' you will need to set up 4 options : 


Set the Source for this campaign by following these steps:


Select 'A trigger against the following List...'

Choose the List Folder e.g. Campaigns

Select the specific List e.g. Course Information Enquiries

Scroll down


Select Trigger: 'Subscribe' 


Select the 'Advanced Options' (the white box)


Click 'add/edit'

Select the relevant field from the Field Criteria Dropdown, and the relevant value. e.g. 'Which course would you like to know about?' - 'Includes any' - 'Course 1'

Click > Ok

Scroll down


Select the Action: 'Send the Contact the Message...' and select Folder and Message. e.g. Course 1, then scroll down


Select the relevant timeframe e.g. 'Immediately'


Now click > Save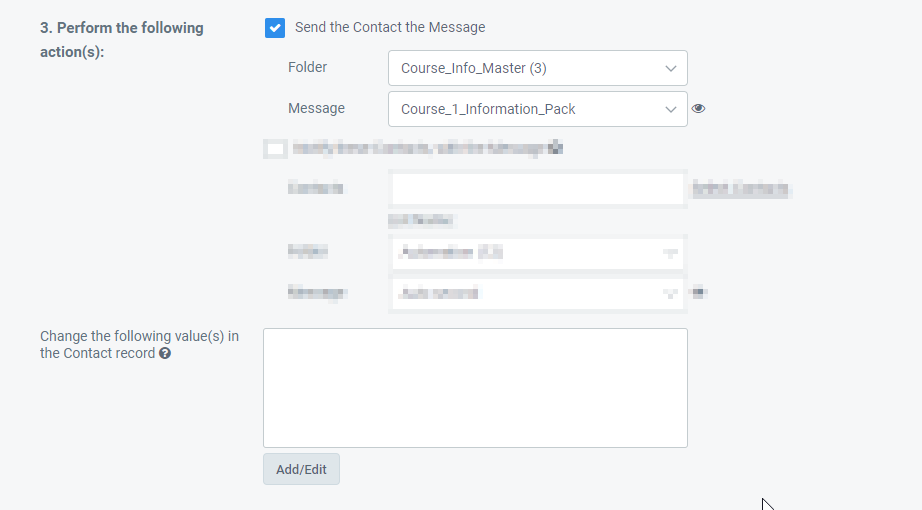 The step is now recorded against the Automate your form enquiry process Campaign.
5. Repeat steps
Repeat Steps above so to set up the message trigger for Course 2 and 3 and the send of the relevant messages.
And finally, click > Save to finish your campaign.
6. Activate your Advanced Automation
Important: Make sure you test your advanced automation before activating. If you do not wish to test on the new automation you have set up, you have the ability to 'Copy' your automation through > Advanced Automation > Select your automated campaign > 'Copy' from the Actions menu.

Once testing is completed, you can activate it:
Go to menu options > Advanced Automation > Select your automation and click > Activate from the Actions menu.
7. View your automation reports
Full reporting on all messages including a text overview and workflow map with associated statistics for every step.

View your workflow reports through menu option > Reports > Automation Reports.