To be Spam Compliant you need to provide an easy way for your subscribers to unsubscribe from your emails and SMS messages.
It is recommended to always provide instructions on how your recipients can unsubscribe from your SMS messages, as these do not automatically have an unsubscribe link built in.
Unsubscribe Options for SMS
Some examples of what you can do to provide an unsubscribe option is:
Provide the short URL to your unsubscribe form for that list of contacts


> To find this URL, click 'Add Form to Website' link in the Form Editor

Provide a message instructing the recipient to reply 'Stop' or a similar word to unsubscribe




> Please refer to setting up Unsubscribe words section below

Provide a message instructing the recipient to call or email a specific number or email address to unsubscribe
Setting Up Unsubscribe Words
If you wish to instruct your recipients to unsubscribe by replying with a specific word, you can customise what words will work for unsubscribe by following these instructions:
Click 'Lists and forms' in the left side menu




Select the list of contacts you are sending the SMS message to

Click the 'Edit' button on the right side of where the list is shown




Click the 'details' button to the left of the green save button





Click the SMS Settings tab

On the right you can add and remove words to use for unsubscribing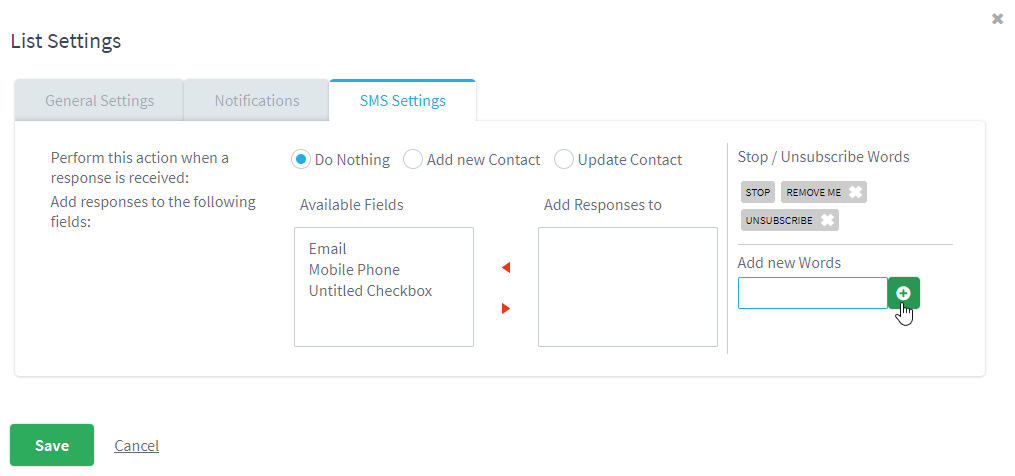 Best Practice Guidelines
Opt-in process - collect mobile phone numbers in your forms, including a field asking if they wish to receive messages via SMS

For existing customers, send an email asking people to update their profile if they wish to receive SMS messages

Include an opt -out option in every SMS message, for example 'Reply STOP to opt out'

Include a Recognised Identifier in your messages so recipients know who you are, e.g. "Hi John, This is a reminder from [Company Name]..."