When uploading contacts you can choose to upload into a new list or into an existing list. If you chose to upload the contacts into a new list, the system will automatically create a list and the field headings used in your file will become the list fields used. 
The system will accept either a CSV / Excel file or a simple copy and paste.
Here is a list of what we will be covering in this article (click to skip ahead):
To Bulk Upload Contacts
1. Select 'Contacts' from the left menu then select the 'Upload Contacts' button.



2. In Step 1 of 3: Select either 'Existing List' or 'Create new List'

3. In Step 2 of 3: Choose either 'File Upload' or 'Copy and Paste'
If you select 'Copy and Paste' then you can simply copy and paste your tab or comma delimited contacts into the text area as in the below screenshot: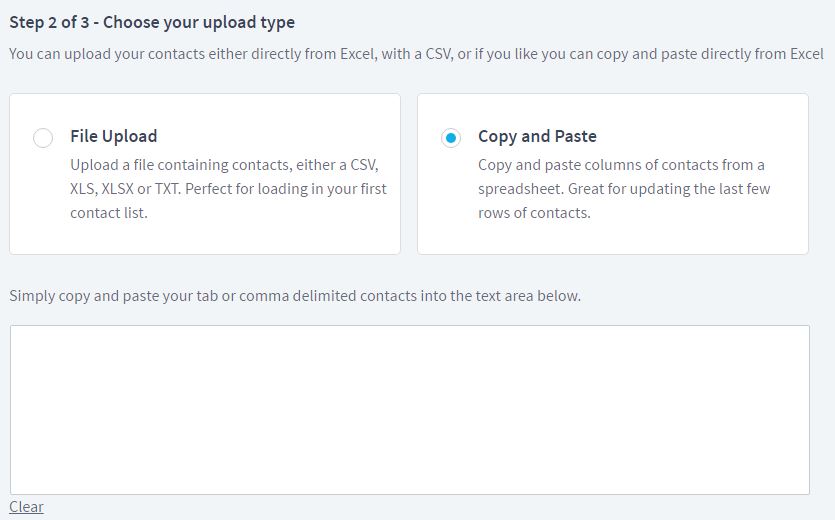 If you select 'File Upload', when you click this, you will be prompted to browse for a file on your Computer.

File size Limitations on file upload are:
CSV, TAB, TXT files: Max 10mb
XLS, XLSX files: Max 3mb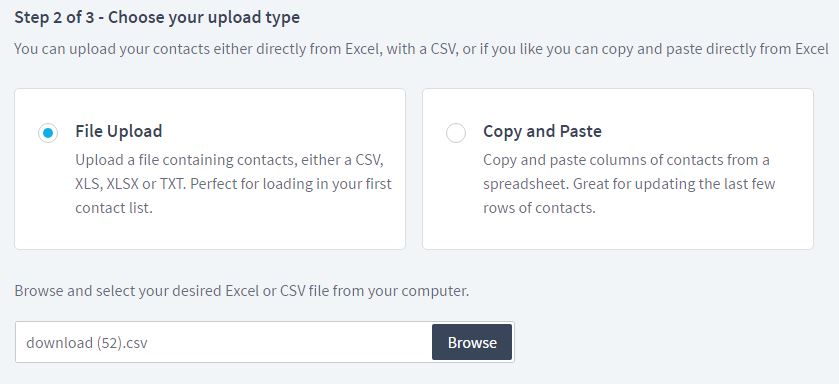 Once you have uploaded your file or pasted the contacts, click Next to go to Step 4 of 4.
4. In Step 4 of 4:
Confirm your field headings by selecting the down arrow by selecting an existing field option or click on the (+) sign to create a new field. This will set up the fields for your list.



At the field mapping stage you can also change the field type to make it easier to search and segment your contacts at a later stage. To do this:

1. Click the pencil looking icon to the right of the field.



2. Choose the desired type of field from the 'field type' drop down box. For a 'State' field I would recommend a drop down field type.



3. Once the field has been selected, click the green 'Save' button.

Prior to uploading, we do recommended checking the Advanced Settings (found just underneath the import button) and ensure you happy with how the system will upload your contacts.


Click 'Import' to start importing your list.
Advanced Settings:
Here you can control how you wish to upload and / or update your contacts upon upload.

Under Advanced Settings you can:
Tell the system if your file has headings or not

Update or ignore data based on a field

Allow duplicates in the upload or not - these are duplicates that exist within your file/ copy and paste only.

Set the country code for sms sends

Exclude unsubscribers or permanently bounced contacts from the upload against all list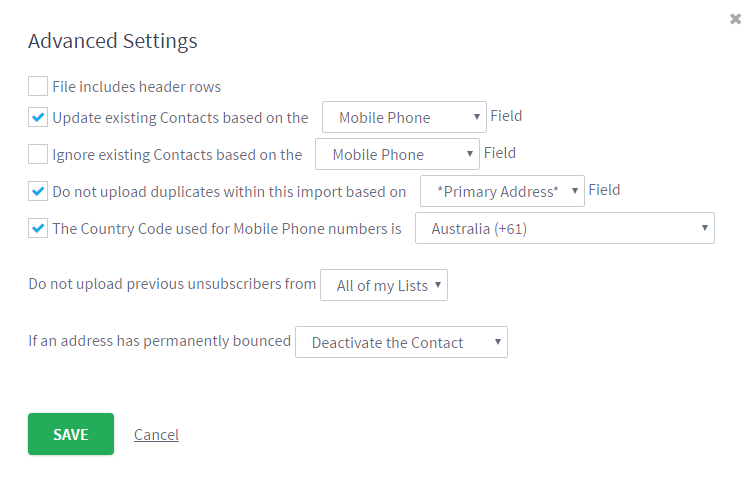 Upload Report:
Once your upload is complete you will see this report. It will state if all contacts were uploaded correctly or not. You can also download the report of contacts that did not upload correctly to fix any errors and re-upload.




Contacts and Lists Video: